"Beyond Praise" By Len Krenzler – Graham Goddard (317th)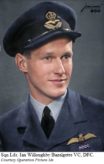 This article is about Squadron leader Ian Willoughby Bazalgette VC DFC and is accessible on the internet by clicking here
I am the nephew of Flt Lt Geoff Goddard who was the navigator on this fateful mission over Senate's , France on August 4, 1944.
I am sure that it would be of great interest to any of our association members and would like to give you the opportunity to notify them through our website.
There is a further article much more detailed regarding Sqn Ldr Bazalgette and his life and career in the Royal Air Force titled "Profile in Courage" available by clicking here .