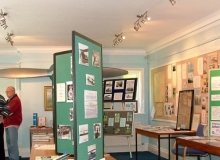 This page contains information provided to the Association by or on behalf of the Bircham Newton Heritage Centre. If you have any queries regarding the content of this page or your proposed visit, please contact the centre direct via one of the links shown below.

Venue:- The National Construction College
Bircham Newton NW Norfolk PE31 6RB
NCC is signposted off the A148 and B1454
Open day schedule draft 2024 – Total open day count 17

First Open day – March 31st Easter Sunday
Sunday, 14th of April
Sunday, 28th of April
Sunday, 12th of May
Sunday, 26th of May
Sunday, 9th of June
Sunday, 23rd of June
Sunday, 14th of July
Sunday, 28th of July
Sunday, 11th of August
Sunday, 25th of August
Bank Holiday Monday 26th of August
Sunday, 15th of September – Battle of Britain Day
Sunday 29th of September
Sunday 13th of October
Sunday 27th of October
Last open day – Sunday 10th of November Remembrance Sunday

As usual we will be open from 10am until 4pm. Entrance and parking will be free, and disabled access and toilets will be available.
To Contact The Heritage Centre:
The Centre has it's own dedicated Facebook site:
https://www.facebook.com/groups/455568478629653/
or you can contact the following if you have any unanswered questions:
Jamie Heffer Tel No. 07807098348 and Email: jamie_heffer@hotmail.co.uk
Ian Jacklin Tel. No. 01485 528286 ianjacklin50@btinternet.com
William Dean Email: williamdean907@sky.com
DO VISIT IF YOU ARE ABLE!