This page contains information about forthcoming events at the Heritage Centre and will display it's opening times.
For more information POSTED BY THIS WEBSITE please visit our dedicated RAF Bircham Newton Heritage Centre Page
The Centre has it's own dedicated website www.rafbnmp.org.uk
or you can contact the following if you have any unanswered questions:
David Jacklin Tel. 01379 741884 e-mail: david.jacklin@outlook.com
Avril MacArthur Tel. 01362 860139 e-mail: avril.macarthur1@btinternet.com
Facebook RAF Bircham Newton Heritage Centre
It will be opened in compliance with current covid 19 guidance. Hand sanitisation will be required and face masks or some form of face covering will be recommended when you are inside the Centre. We are going to implement a one-way system with social distance markers similar to that found in shops and supermarkets. We are also going to limit the number of family groups inside the centre at any one time to a maximum of three. In addition, there will be a welcome desk outside where you can sit down and meet the staff in the open air to discuss any specific items of interest or to ask questions. Strict social distancing will also apply here.
Open from 10am until 4pm
Disabled access & toilets will be available, and car parking and entrance will be free.
Please don't all turn up at exactly 10am, which would result in queueing to enter the Centre. Staggered arrival times would be more convenient for us all.
DO VISIT IF YOU ARE ABLE!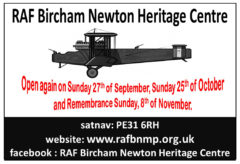 Last Sunday in September: 27th September.
Last Sunday in October: 25th October.
Remembrance Sunday: 8th November
The Centre is open from 10am until 4p. Entrance and car parking are Free and disabled access and toilets are available. Tea, coffee and biscuits are available. www.rafbnmp.org.uk Facebook RAF Bircham Newton Heritage Centre
Venue:- The National Construction College
Bircham Newton NW Norfolk PE31 6RB
NCC is signposted off the A148 and B1454
FORTHCOMING EVENTS
There are no forthcoming events notified at this time