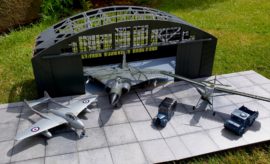 An Absorbing Hobby
I retired 12 years ago and although loved the times of year when you could go walking or do gardening or were fit enough for all those projects put off for lack of time (in my case building a summer house), there was always the problem of what to do when you are stuck in doors in wintertime. So, I started making Airfix model aircraft.
I know it is often thought of as being a pastime for the younger generation, but I can assure you, some models are very intricate and require thought and ingenuity in their assembly and painting requires a steady hand and good eye, or close work glasses!
To date I have built Lancaster, Blenhiem, Wellington, Shackleton, Vulcan, Victor, Lightning, Javelin, Vampire, Jet Provost and Feisler Storch models in 1/72 scale. In 1/48 scale, a Canberra, a Spitfire and another Blenheim Those of you that were at Bircham Newton, might remember the Javelin, Vampire and Feisler as being in No 1 hanger.
My latest project has been a diorama of this Bircham group. (This has involved making a hanger, but not of the type at Bircham and as its only for photo's it's been shortened & the roof is open to show construction). Photograph attached. The vehicles are also from Airfix kits.
Of course as the collection grows, so does the problem of where to display them. In my case, although not by design, hanging them from the (Self built) summer house ceiling is the ideal place!
Currently, there are another three in their boxes waiting to be released – two 1/48 scale, a Javelin and a Meteor plus a 1/72 scale Hurricane.
Bored, sorry haven't got the time!
David Tinley