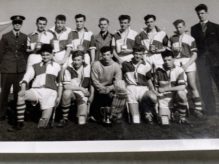 AATS RAF BIRCHAM NEWTON HOCKEY TEAM
The team comprises members from the 38th to 41st entries and would have been taken in the 1960-61 hockey season – probably 1961. If anyone can identify any names please it would be very useful.
The person in the suit, far right in the back row, was Gerry Meijer (38th entry) who was sadly killed in service in a RAF vehicle accident but the full details are not known.