The South West Herts Group
A Short History Of The SW Herts Group – Trevor Moore 14th Entry
In 2002 four members of the Association met up one evening at the "Moon under Water" pub (Wetherspoons) in Watford, Hertfordshire with a view to meeting up on a regular social basis All were from the Watford area – Trevor Moore (14th) Haydn Illingworth (21st ) Phil Gough (31st) and Peter Ralph (46th) Noel Hayes (also 31st friend of Phil) but from London joined us later. Apart from Phil and Noel we had never previously met during our RAF service. Thus the "Watford Flight" (really only a "Squad" !) was the original foundation of what is now the "South West Herts Group".
These get togethers carried on for a few months, until Trevor organised a visit to the Officers' Mess at RAF Bentley Priory on a Saturday lunchtime and from there the PMC approved that we could meet on a 6 monthly basis using the Mess facilities. The membership quickly grew and on a "focal point" basis, not simply County based (ie Herts), and that principle owed much to the success of what fast became the South West Herts Group. RAF Bentley Priory, the former famous HQ of Fighter Command, and then HQ Numbers grew to some 25 on the mailing list from Herts and the surrounding Counties, and functions included ladies guest days and guided tours of the Priory. One of the photographs on this site shows our largest ever gathering of members, on the steps of the Priory, at the final formal re-union inthe Summer of 2007 prior to the closing of the Priory as an RAF base.
It was at one our meetings in 2005 that we invited four ex-Ruislip members and the photograph shows the four, two who subsequently joined our Association ,and in particular Jack Marshall who has continued with the SW Herts Group as a regular member to our now quarterly functions.
When the Priory finally closed in early 2008, due to Government defence cut backs, we decided to continue the Group if we could find an alternative venue ideally in the same area as the Priory. What better place than one of the oldest pubs in the locality – the Three Crowns in BusheyHeath. Our first meet there was on Saturday 3rd May 2008, and thanks to the continued support of our regular and new members, we have held quarterly meets usually on the first Saturday of the month – Feb, May, Aug , and Nov.
Our 10th Anniversary of the Group's foundation was held in May 2012 and the photos and report are within this site records.
Posted 6th February 2020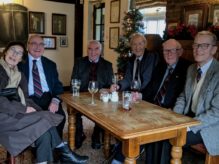 SW HERTS GROUP MEETING – 7TH DECEMBER 2019 – PHIL GOUGH – 31ST
The third SW Herts reunion of 2019 took place as usual at the Three Crowns Bushey Heath on 7 Dec. Numbers have dropped over the past year to around seven from nine or more so we welcome any member who has not been for a while for what is always a convivial and excellent lunch. In the photo (indoors this time, are we getting soft?) are L to R Irene Scott, Brian Scott (32nd), David Marshall (23rd), Ken Roost (1st) Tony Parsons (19th), Phil Gough (31st). A great joy to welcome back Ken our "Senior Man" who is still under treatment for a serious illness.
Posted 7th November 2019
SW Herts AAA visit to former RAF Uxbridge Museum – phil gough 31st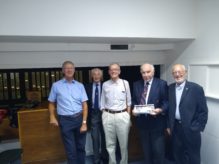 On 6th August 2019 five members of the SW Herts AAA reunion group took a sortie to the Battle of Britain museum and bunker at the former Fighter Command 11 Group headquarters at Uxbridge. We were made welcome as ex-Apprentices with free entry, and after a light lunch and a tour of the interesting modern museum, descended the 78 steps 60 feet below ground to the Operations and Plotting rooms. The latter was shown as it was on 15 September 1940, the day Winston Churchill visited on that crucial day. David Dyer a former Boy Entrant Clk GD gave a lively account of what we were seeing and conveyed something of the tension and excitement of the air battle.
Present from the SW Herts reunion group L to R are: Tom Price-Rees (40th), Peter Moir (17th), Phil Gough (31st), David Marshall (24th), Peter Ralph (46th).
This was the last time we shall see Tom Price-Rees who sadly died on 4th November after having been in intensive care since he collapsed on the golf course on 20th September. This is a deep shock to us all as he was an active tennis and golf player as well as a passionate hill walker in Spain.
REPORT OF MEETING HELD ON 4 AUGUST 2018 – PHIL GOUGH (31st)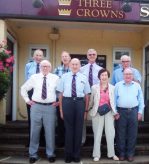 The second of our three meetings of the year at the customary venue of the Three Crowns at Bushey Heath, Herts. The pub staff was thanked for providing an excellent lunch that was enjoyed with good conversation as ever. Absent was Ken Roost (1st) whose son told us he had just come out of hospital after a month of investigations, and apologies from Peter Ralph (46th), Phil Gough and Noel Hayes (both 31st) Peter Moir (17th) and Ron Anders (29th). We were saddened to learn afterwards that Haydn Illingworth (21st) had died a few days previously after coping with cancer for several years, he was just on the point of being discharged from hospital. Haydn was one of four founder members of our 'Flight' founded by the late Trevor Moore (15th) in 2002 in Watford.
Back row: Derek Hobden (19th), Terry Waine (35th), Tom Price-Rees (40th), David Marshall (24th). Front: Tony Parsons (19th), John Forshaw (20th), Irene and Brian Scott (32nd).
Our next reunion will be on Saturday 1st December 2018, arrive after 11.15 and all ex-AA's and partners welcome.
REPORT OF THE MEETING HELD ON 2ND DECEMBER 2017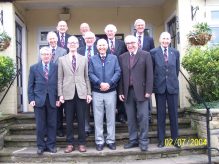 A good turnout of AAA members on December 2nd for the last of our three meetings in 2017. A pleasant natter after we had reorganised the table layout followed by lunch at the habitual venue of the Three Crowns in Bushey Heath, Herts. Apologies from Peter Moir (17th), Haydn Illingworth (21st) and Brian Scott (32nd). We signed a card to John Summers (18th) who has moved to a care home in Kent. We were saddened to hear of the death in late November of Phil Eltringham (31st). Next meeting Saturday 7th April 2018 11.15hrs.
Phil Gough
Back: John Forshaw (20th), Peter Ralph (46th) George Masson (29th), Tom Price-Rees (40th)
Middle: Terry Waine (35th), Tony Parsons (19th)
Front: Noel Hayes (31st), Phil Gough (31st) Ken Roost (1st) David Marshall (24th) Derek Hobden (19th)
.