21st November, 2023
Bircham Newton Heritage Centre – Bryan Schofield Assn Chairman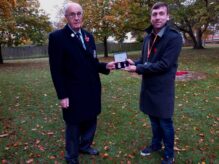 Our Chairman Bryan Schofield visited the Heritage Centre at Bircham Newton on Remembrance Sunday and was privileged to lay a wreath on behalf of our Association at the memorial. He also took the opportunity to present an Apprentice medal to Jamie Heffer, the Chairman of the Heritage Centre, for inclusion in their display in the Apprentice Room.
The Centre has undergone a significant internal redevelopment over recent months and now has displays in three downstairs rooms relating to three phases in the history of RAF Bircham Newton; a WW1 Room: a WW2 Room and an Apprentice Room. The Trustees and Volunteers are in the throes of refurbishing a fourth downstairs room to create a quiet room which will hold a library and reading area for research etc. They have also been given access to the rooms upstairs, and Jamie, who has boundless enthusiasm for the Centre, I know will want to bring them into use as soon as possible. Dixie and Barrie have given a great deal of their time to create an outstanding display of apprentice memorabilia and records in the Apprentice Room.
Bryan intends to visit the Centre again next year to see what further improvements have been made.
Back to noticeboard
Noticeboard archive