Great Stuff Found On YouTube – Grahame May (25th)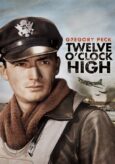 I first saw the film TWELVE O'CLOCK HIGH some 70 years ago at the local cinema and was so enthralled that I sat through it twice, Many years later I was able to tape it onto a DVD but the adverts rather spoiled the whole effect. Imagine my delight when I recently found it on You Tube, complete and unabridged. There are no adverts and you can download the film and save it onto your computer or laptop.
In my opinion it is one of the greatest war films ever made. OK- it is not in colour but somehow this adds to the whole effect. The script and actors were all first class ( Gregory Peck, Hugh Marlowe, Dean Jagger to name but a few) and the film has none the usual off duty, jiving, hi buddy yanks or corny romances. The only female involvement was a nurse making a brief appearance in the base hospital scene. The film is just a hard. gritty semi factual story of how one Eighth Air Force Group got through their early months in England and later tackled the problems of the stress and strain of daylight precision bombing and the subsequent crew losses.
One of the opening scenes in the film has the former Group Adjutant returning to the old derelict airfield after the war and walking through an overgrown area where B -17 Fortresses used to stand. He is reminiscing, when suddenly there is the cough of an aero engine starting ( which always makes the hairs on the back of your neck stand up) and we are are transported back to the active airfield as it was in late 1942.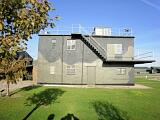 In 1986 ex S/L Jack Currie DFC made a TV programme from the old RAF airfield at East Kirkby, Lincs about the two farming brothers, Fred and Harold Panton, and their restoration of the old Control Tower. He described how, in WW 2, a badly shot up B-17 tried to land there late on a winters afternoon, but was waved off because it was not lined up right and the two resident RAF Lancaster squadrons were being fuelled and bombed up. After two more abortive attempts the crippled B -17 crashed into a nearby field and all the crew were killed.. Since then a shadowy figure in flying gear was occasionally seen. at dusk . walking from that field towards the old dilapidated Control Tower, presumably to tell his side of things or get an explanation. Incredibly this programme also recently turned up on You Tube, together with another programme Currie had made about his own wartime service as a Lancaster pilot at RAF Wickenby.. Both are well worth seeing.

I first visited East Kirkby when restored Lancaster JUST JANE was beginning to do engine starts and short taxy runs and was very fortunate to have had a brief word with Fred Panton about that TV programme. He confirmed that the old Control Tower did have "a bit of a reputation" but it had all ended once the building had been restored.. The last time I was there it had been re-named the Lincolnshire Aviation Heritage Centre and had been greatly enlarged and developed. Plans to get JANE back into the air were under way and there was also a De Havilland Mosquito about to undergo some restoration. It is a great place to visit, particularly as the BBMF hanger is just a few miles away at RAF Conningsby..