Brian Clough A Football Legend – Grahame May (25th)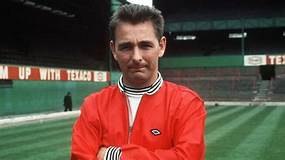 My dad first took me to see Middlesbrough FC in 1952 when they were doing quite well in the old First Division. Their opponents that day were Blackpool with Stanley Matthews, but I seem to recall that he had a rather quiet game. Later, I saw Wolves with Billy Wright, Newcastle United with Jackie Milburn, Sunderland with Len Shackleton and Arsenal minus my hero Dennis Compton. ( He was down to play in the match programme but fifteen minutes before the kick off it was announced that he had failed a fitness test.) The old knee trouble I presume.
Middlesbrough were later relegated to the Second Division and I did not see them play again until the 1960/61 season when the papers were full of a local lad named Clough who was racking up a phenomenal goal scoring record. Consequently I and a few mates went to see the next home game and were astonished as soon as the two teams ran out for the usual kick in. Clough casually punted a ball 40 yards into the empty net and then commenced to beat the keeper with volleys from just outside the penalty area using either foot.
As the match progressed his ball control, heading ability and general match awareness were second to none and it was no surprise when he scored from a half chance following a corner. He then added a second, just before half time. running through the defence and stroking the ball wide of the keeper. He scored a third with a header just before the final whistle . I seem to recollect that the game finished 3 – 3 but cannot remember .the name of the opposing team. In his autobiography, Clough bemoaned the fact that the constantly 'leaking" Middlesbrough defence was one of the reasons he left to join Sunderland after only six seasons. "We were losing games 4-3, 5-4, 6-5, How ridiculous was that?". Match fixing was later investigated and proved, The local papers named names, but the damage had already been done.
His record of 197 goals from `213 games at Middlesbrough speaks for itself. Sadly, I only witnessed a fraction of these from various home games but I will always remember a Cup Tie against Grimsby Town in which Clough scored four. It was a match in which his continued presence in the opposition half and penalty area caused no end of problems for the visitors defence. He also revelled in harrying their goalkeeper for most of the match, so when the poor lad tried to collect a rather wild back pass and saw Clough bearing down on him, he fumbled the ball. Clough quickly dispossessed him, walked the ball to the goal line, stopped and turned round. Then, as the keeper and a defender tried to scramble back, he calmly back heeled the ball into the net. The crowd went wild!
My lasting memory of it all is of leaving the ground after his final game. It had been a cold, dull afternoon but Clough had signed off with a couple of goals and Middlesbrough had again avoided relegation. As with all football crowds you always hear bits of chat or the odd comment here and there as everybody surges towards the exit. The one I treasured was ""Clough for England? Why man all he does is hang around in the penalty area and score goals." I wish I could have heard the response!!