A Tale Of Three Cities – Peter Culley (29th)
My son (almost 57) has just returned from a personal 'bucket list' trip to Everest Base Camp in Nepal. I envy him. In my day the very concept of having such a bucket list was a fantasy (except for the mega-rich maybe) but it has become quite fashionable in this world of international travel. Were I to succumb and indulge in this trend I would probably put Machu Picchu at the top of my preferences, although it might prove very difficult to decide when matched against the many wonders of Ancient Egypt and the Nile.
The dilemma does not exist however. Now in my 8th decade and somewhat handicapped when it comes to mobility and walking any great distance (I rely on a walker) it is unlikely I shall be brushing off my passport any time soon. I am not complaining however because in my younger days I was fortunate (thanks largely to my membership of the RAF – ie the taxpayer picked up the tab!) to see something of the world. What follows is my recollections of three very different cities, viewed in the timescale of the 1960's. I am sure they have changed considerably since my visit (in fact I know they have) but they remain fixed in time as far as I am concerned and are all the more precious for that.
The first of my 3 cities is Oslo,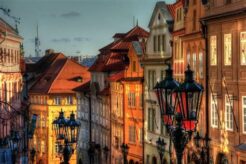 capital of Norway. The RAF kindly sent me there in 1960 although, to be frank, I had already enjoyed a preview in the form of a brief holiday with my then girlfriend which included visits to both Bergen and the capital. As a result I was already very taken with the country and looked forward eagerly to getting to know it better. Oslo in those days was a beautiful city, being both spacious and pleasantly located at the tip of Oslofjord. It contained several striking buildings (but thankfully no skyscrapers) as well as welcome open spaces. It was large in size but had a modest population, making it both accessible and relaxing for its inhabitants.
The NATO HQ was located at Kolsas on the outskirts of the city and comprised Norwegians, Danes, Brits, Americans and a couple of Germans. Life there was a welcome change from what we were used to in the UK. The cost of living was high but we received some financial compensation for this as well as access to BEBS (British Empire Bonded Stores) where we could purchase certain items from home.
I arrived officially by way of Fred Olsen from Newcastle, and moored under the walls of Akershus Fortress, in sight of the famous Radhus (Town Hall). That very evening I attended a dance at Kolsas where I met the lovely lady who was later to be my wife (then serving in the WRNS). Oslo was a delight. The main artery in town (Karl Johans Gate) featured a green oasis leading from the Storting (Parliament) building at one end, up the hill and past the National Theatre, almost to the Royal Palace at the top. We often frequented the two open-air cafes at either end of this green space in town where we enjoyed smorgasbord. On special occasions we also dined at the famous Bloms restaurant (It still exists) as well as visiting the Viking Ship Museum on Bygdoy; the Ski Jump at Holmenkollen; and the unique Vigeland statues in Frogner Park.
Sadly Marie's tour of duty ended before mine but I later returned to the UK to marry her before bringing her back to live near Sandvika on the Oslofjord. Like almost all RAF personnel I applied for – and received – a six month extension to my posting. Thanks to my time in Norway I eventually graduated as a very novice skier (on flat surfaces only!) and learnt some basic sailing skills on the Oslofjord.
Shortly after my Scandinavian adventure RAF Record office (most likely ex-Apprentice friends) selected me to go on a detachment to Paris to be part of a multi-national Working Group; the substance of which I recounted in an earlier article entitled 'Playtime in Paris'.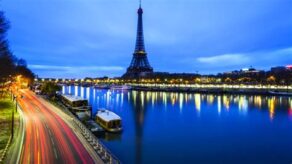 Sadly this was an unaccompanied detachment but the prospect was exciting and the contrast fascinating.
Paris (like London) is huge and is heavily populated. Like London it is full of history which was a major attraction for me. I had already read all the 'Maigret' novels by Georges Simenon (largely set in Paris) and – being in the 'A' stream at my Secondary Modern school – I had been exposed to the language of France. I had not reached proficiency in this subject but could just about manage the odd word or two that might aid my survival (eg "Une biere, s'il vos plait").
I was housed in a small hotel with creaking lift, a short distance from our offices in the American Embassy overlooking the Place de la Concorde. Travel round the city was by Metro and who could not be entranced by a city-wide system that included such evocative station names as Bastille, Bir-Hakim, Stalingrad and Pyramides?
The Working Group itself was intensive (if perhaps of little real value) but we had free time at the weekends to explore the city and I made full use of the opportunity. This included a trip to the top of the Eiffel Tower (naturally); a visit to the Louvre Museum (where, in common with countless others, I initially walked past the Mona Lisa having been fooled by its modest size); Notre Dame, Sacre Coeur; the Jeu de Paume; the left-bank bookstalls; etc. The Metro put the city at my disposal and I loved it, except immediately after the lunch hour when Parisians had partaken of their garlic!
One memory in particular remains with me and that was on a Sunday morning when I found my way to the Place St Sulpice and sat at the table of an open air cafe drinking coffee and reading an English newspaper. The presence of the overhanging trees and the absolute silence in the heart of this busy city was sheer bliss.
It wasn't all silence however. On the morning of 14th July (Bastille Day) we were suddenly aware in our offices of people gathering in the Place de la Concorde and the blowing of bugles to mark the French Revolution. And of course, the noise of the usual incessant city traffic was a constant background to our daily labours. Sinatra may have sung about 'the city that never sleeps' but the same could have been said about Paris. Great fun.
My last city is Hong Kong,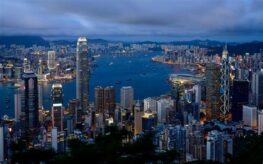 the Pearl of the Orient. Strictly speaking when describing life there I am referring to Kowloon and the Island only. The New Territories (at least when I was there) was very rural and contained more ducks than people! The Air Force sent me there in 1966 to be PA to the last AOC (Air Cdre Harold Bird-Wilson).
If Paris was frantic Hong Kong was like Paris on steroids. It was a relatively small area but packed with humanity (mostly accommodated in multiple high-rise apartments) and the constant noise and bustle was overwhelming. The harbour was a hive of activity with ships from the known world arriving at all hours, while the airport of Kai Tak with its runway extending out into the harbour handled the big jets bringing tourists and businessmen to this prosperous gateway to China.
Initially I was unaccompanied as Marie was pregnant and I lived in barracks. Night-time guard duty was fascinating as our post was across the road from a high-rise and the noise emanating from there (a mixture of Chinese playing Mahjong and/or running amok with cleavers) was indescribable.
Kipling (and E M Forster) have commented on the irreconcilable differences between East and West. A quick trip down Wanchai at night would confirm this. Inside any of the many bars you could be accosted by girls touting for business (cash is king in Hong Kong) while in the corner would be a small family shrine to the souls of the dear departed! Exciting as the city was, it was also claustrophic and I was lucky to accompany the Air Commodore to Clark AFB in the Philippines for a week.
Following the birth of my son the family flew out to join me and we lived in a flat on the island with a balcony where one could just glimpse part of the Hong Kong Racecourse below. Nevertheless we did not escape the incessant noise. Day and night new buildings were always being constructed and Chinese workers fearlessly climbed bamboo scaffolding to make them possible. It always amused me to see how fascinated the Chinese were when they encountered my young daughter. Her blonde hair made her stand out among their own universally black hair. Trips on the famous Star Ferry across the harbour to Kowloon to go shopping were always fun, while we used to seek peace and quiet by wheeling the pushchair round the local cemetery! The odd typhoon when we boarded up the windows and hunkered down was also exciting.
Our time in the colony coincided with the Cultural Revolution then raging on the mainland. By and large it passed us by, although our water was cut off and for a time we only had access to it for 4 hours every fourth day.
The AOC left Hong Kong after 6 months and I served the rest of my tour working in the Joint Service Intelligence department. On my return to the UK in 1968 I was posted to RAF Church Fenton, my last posting before leaving the Service and going to Teacher Training College.
And there we have it. As you can see, the decade of the1960's was – for me – one of the most important of my life, during which I got married, had two children, and experienced an interesting and sometimes exciting life in the RAF. Now 60 odd years further on I often find myself looking back with nostalgia to those days and wondering whether it might be a good idea to splurge some of my savings and pension on an emotional reunion with one or other of my three cities.
And then reality kicks in. Lord knows I have changed over the intervening years and I have no doubt the same will have occurred to them. A little voice in my head, growing louder by the minute, says that way lies disillusionment and disappointment. Don't do it!! And, regrettably, I won't.