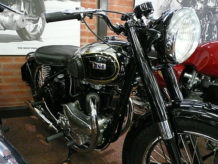 A Salutary Tale Of A Cracked Ankle And A Shredded Backside by Alan Bell
I am in discussion with Mike Hamill (40th) who will be shortly submitting an article which will include mention about his time living in Wendover. The forthcoming article the details of which I will not reveal here, nevertheless reminded me of an incident I was involved with, that took place near Wendover in 1960.
At the time I was working in Command Stats at Bomber Command High Wycombe, before being posted to RAF Changi later that year. While at High Wycombe I had purchased an old BSA A7 500cc twin cylinder motorcycle. I had a lot of fun with that old bike and it was the start of a lifelong long love affair with motorcycles.
For the biking purists amongst you, the BSA A7 was made by the Birmingham Small Arms Company (BSA) at their factory in Armoury Road, Small Heath, Birmingham. The range was launched in 1946 using a 495 cc (30.2 cu in) long stroke engine. An improved 497 cc (30.3 cu in) version based on the BSA A10 engine was launched in 1950. I suspect that mine was probably the later model but to be honest I am not sure. I do however remember its very unreliable acid battery and the fact that if you did not use the valve lifter when kick starting it, you risked a pretty hefty kickback and a very sore foot! Other than that she was a 'proper' bike with that distinctive exhaust sound so reminiscent of most British bikes of that time.
Unfortunately my love affair with this particular BSA came to grief when I decided to ride it to Hull to visit an old mate who had been at school with me at Beverley Grammar in the mid 50s. Looking back on it and for my sins, I do not think I had actually passed my motorcycle test at the time but did have a provisional licence and third party insurance. I decided to 'risk it' mainly because I was going to have a pillion passenger, a corporal from the station who did have a full licence. We duly set off late in the afternoon on a Friday. My riding kit was pretty basic but I did have a crash helmet and goggles. My passenger on the other hand did not and was adorned with a WW2 air raid wardens steel helmet. All went well until we entered what was then very steep right hand bend close to Wendover on the A413 (I believe there is a roundabout there now). At that time it was not possible to see beyond the exit to the bend until you fully rounded the corner. As we did so, a tractor was backing out a trailer from a field and I was faced with no choice other than to collide with the coupling. Luckily we were not travelling at speed so the collision was fairly light. I landed in the road having given my right ankle a right walloping but, my passenger continued over the obstacle and landed squarely on his backside. The momentum propelled along the tarmac for about 5 yards and as you can imagine, his rear end ended up painfully sore after the bottom of his trousers had been ripped open.
PC plod who happened to be cycling home did stop to investigate but fortunately, he was clearly late for his dinner. He saw that we were both on our feet, did not ask to see my license etc, told the tractor driver to get his trailer back off the road and went on his way! We hitched back to High Wycombe and were patched up in sick quarters no questions asked. I suspect that a similar episode would not be treated in quite the same way these days!!
Sadly he bike was a write off but I very quickly took and passed both my driving and motorcycle tests!