Australia Group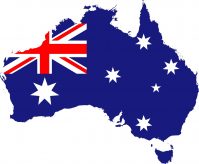 It is with pleasure that I announce the formation of an Australian Regional Group. To be more accurate it presently comprises 2 ex-admin apprentices living in South Australia but nevertheless, I felt it more appropriate to simply call it the Australia Group.
Tony Collins 46th Entry has sent me the following:
'Two ex-Admin Apps have been meeting on a regular basis for over 5 years in Adelaide South Australia but have not, until now, decided to promote it. This is mainly because we live in such a wonderful country with amazing weather and a Rugby team to die for (and a Cricket that died); it may result in depressing the many members that live in the UK. However, now that winter is with us and we are experiencing colder days reminding us of UK summer weather (20°c) we thought we would reach out to any ex-Admin Apps both here and in UK to join our meetings (UK-Aus return only £800). The current membership is made up of Ian Bell (28th) and Tony Collins (46th). G'Day to you all!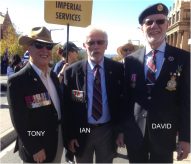 On April 25th we take part in the annual ANZAC Day march in Adelaide. ANZAC day is a very big day here in Australia and there are Dawn Services and marches in virtually every town and city and they are all extremely well attended. In Adelaide there were about 6000 marching and some 30000 lining the route, it took two hours for the march to pass (as timed by my lady wife). We met up with a RAF Boy Entrant group and with another ex-App; David Brandon of the 39th and Trevor Courie(?) (Unfortunately Trevor was unsure of his entry but it was in the 30's). Tony proudly wore his Grandfather's VC, DCM who had a close connection with the ANZACs having fought on Gallipoli and won the VC at Beersheeba during the battle where the famous Charge of the Australian Light Horse occurred.'
As you will see, there are clearly other ex-Admin Apprentices and Boy Entrants, living in Australia, including also one that I know personally, Ted Huntley (24th). As Tony has said, I hope that others who either live in Australia or are visiting, may be able to make contact. Tony can be contacted by email at ajfcollins44@bigpond.com
12th December 2018
I was very pleased to receive an email from Ian Bell (28th) recently and amongst other topics he brought me up to date with the Australian group. I am sure that Ian will not mind my summarizing his comments which you can read below:
Ian says ' I believe we have a number of ex-Apps. here in Australia – I am in regular contact with Tony Collins (ex-46th) on a monthly + basis for brunch and also to a lesser degree with Bob Shurville (ex-26th), I thought and intended to bring these two together but Bob decided to move out to the boon docks and this has proved to be difficult. Tony and I have recently made contact with Des Skinner – ex-41st Supplier, who eventually ended up as aircrew. Unfortunately, Des lives in NSW and so any catch up with him will entail some planning like a holiday that way. Nevertheless, we'll keep at it. I should add that Tony and I are now regular attendees at Anzac Day and more lately Remembrance Day Ceremonies, along with a group of about half a dozen ex-Boy Entrants who, for some reason, are a bit stand-offish (we'll have to work on that)'.
July 2019
AUSTRALIAN ADMINISTRATIVE APPRENTICES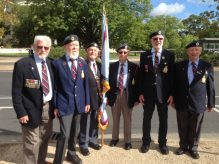 Now that our cricket team is in the UK, without sandpaper of course, and before they win the World Cup it is a good time to update the activities of the (renamed) Australian Administrative Apprentice Group.
Tony Collins ex-46th and Ian Bell ex-28th have been joined by David Brandon who is ex-39th Entry. We first met David at the annual Anzac day march in Adelaide and, through another ex-41st Des Skinner, met up for a catch-up lunch. Des resides in another State (New South Wales) so contact is by phone or e-Mail. Both David and Des were Suppliers and had known each other whilst at Maralinga. All four of us had been in South Australia in the early/mid-1960s – Tony at Edinburgh, Ian at 15 JSTU (Edinburgh) and Woomera, David at Maralinga and Des at Maralinga and Edinburgh.
David joined on 20th January 1960 at Bircham Newton as a Supplier but transferred to Hereford in June 1960 as a BE Supplier Two. He passed out as SAC in Jul 1961 and was posted to 16MU, Stafford, and then to Maralinga in April 1964. On return to UK he worked at JSCBC, MOD, from April 1965 until medically discharged in September 1967. He emigrated back to Australia in 1967 and worked for Air Liquide and in the areas of accounting and logistics for a number of companies. His interest in Soccer continued and he played for a local team and also became a referee (Des, Ian and David have been connected through Soccer – Tony has no idea what they are talking about!). David still works part-time around 12 hours per week (invoicing/accounts receivable) and also volunteers as a guide at the Adelaide Oval, which receives thousands of visitors each year.
Des joined in September 1960 at Bircham Newton and passed out as a Jnr Tech Supplier One. Posted to Benson and given the Priorities Desk – great job involving the Queens Flight and the relatively new Argosy. Worked on the ill-fated TSR2 – a fabulous project, till late 1963. Volunteered for Maralinga and moved to Edinburgh in 1964. In August 1966 he was posted back initially to Coltishall but on arrival was told that he would be going to Biggin Hill for Aircrew testing and this led to OCTU and eventually becoming a Flying Officer Navigator. A short tour on Vulcans at Waddington followed by a posting to Abingdon, flying the wonderful Andover with 46 and 84 Squadrons. Became an instructor at 242 OCU then Examiner until the axe fell on the Transport world with the 1975 Defence White Paper. He took voluntary redundancy in April 1976. Lived in York working in Industry at Wetherby but decided to return to Australia in June 1981. He settled in Beresfield, NSW and worked for 'Yellow Pages' for 5 yrs before becoming Supply Manager for a coal mining equipment manufacturer. He spent the next 15 yrs travelling the world for the company until he retired in 2001. Apart from Soccer Des became a player and administrator of Lawn Bowls at the local, State and National level. He was Newcastle District Bowling Association, vice-president and state councilor to the Royal NSW Bowling Association from 1997 to 2004. He has been a Bowls Australia director since 2007 and president since 2012, as well as being a Beresfield Bowling Club board director for the past 18 years.
4th June 2021
A Report From Tony Collins (46th)
I have not reported on our meetings over the past year or so as with the Covid 19 outbreak it did not seem such a good idea to report that we still managed to meet nearly every month and were enjoying an amount of freedom that you are only just experiencing. With an outbreak in Victoria (26 cases) which has Locked-down that State and caused all other States and Territories to close their borders, I feel we can say that we are also suffering this pandemic (well the Victorians are suffering for us – such is the camaraderie that occurs between all States.)
We changed our regular meeting venue to the Henley Beach Hotel
and Ian Bell (ex-28th Clk), David Brandon (ex-39th Supp), and Tony Collins (ex-46th Clk) are joined via Messenger video with Des Skinner (ex-41st Supp) who resides in NSW. We used to have great discussions when Donald Trump was president as there were differing views but now, of course, it is mainly about Covid and how our friends in UK are coping. Our government did well in closing borders early and kept us fairly free of what other countries were experiencing, and each of the states also closed their borders with other states as outbreaks occurred. However, they have not done so well in organizing the distribution of the vaccine – this is where the responsibilities of Federal and State start to conflict with each having a go at the other. There were supply problems with some contracts not fulfilled but given that our population is only around 26M we should be nearly finished by now, yet they are talking about early next year! This is a real worry as we are now into Winter which is the ideal time for the circulation of this virus.
Ian, David and Tony)
were able to take part in the annual Anzac Day march on 25th April which was restricted and no crowds were allowed apart from relatives of the marchers. There must have been more marchers than I thought or they had bloody big families as there was quite a crowd.
With the expectation of the English cricket team coming to attempt to regain the Ashes this summer I thought I would recount my last and only visit to a test match. I supported England as I was still single and yet to marry my Aussie wife. A few members of the RAF Support Unit (Australia) decided to go to the test match: Des Skinner, 'Dinga" Bell, me and (?). This was second day of the 4th Test in the 1965/66 series held in Adelaide. England were 240/9 at the end of the first day, which soon became 241 all out as McKenzie caught Fred Titmus leg before wicket first thing in the morning.
We armed ourselves with a bedsheet (Des was a supplier) on which was proudly written "UP THE POMS" which we intended to raise every time an Australian wicket fell. It was a typically hot January day and a lot of drinking was the order of the day.
Bob Simpson and Bill Lawry opened for Australia. Drink break came and went. Lunch came and went and the crowd was ecstatic at the fast run rate celebrating with more and more beer. We, on the other hand, were drinking to drown our sorrows and bemoaning the fact that our hard work in constructing our bedsheet sign was wasted. Then with the score at 244 Fred Titmus bowled Bill Lawry for 119. Our time had come! Up went the bedsheet ….and down came the beer cans!! It was as though the sky had darkened suddenly. Needless to say we dropped our bedsheet, then to add insult to injury along came a policeman who threatened to chuck us out if we caused any more disturbance! Two more wickets fell that day with Australia at 333/3, (the bedsheet remained prone) and were all out on the third day for 516 – a lead of 275. Australia beat England by an innings and 9 runs to even the series 1–1. The series ended in a draw and Australia retained the Ashes.
The photo shows, from left to right, (?) – Dinga Bell – Tony Collins – Des Skinner.
David Brandon (ex-39th Supp) volunteers as a guide at the Adelaide Oval so we may be able to report on another win by our Aussie Cricket team