27th September, 2021
Proposed 319th Entry Reunion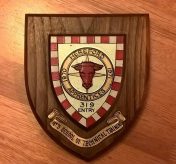 We have been advised that Peter Clinker (319th) is hoping to arrange a reunion of the entry next year. I have no details of a possible venue or dates at the moment, but I am sure that Peter would be happy to hear from anyone interested in attending the reunion.
He can be contacted at peter.clinker@hotmail.co.uk
29th September – Website Manager Update
I have now heard from Peter with more details about his proposals for the reunion. These are as follows:
He was hoping to get members of 319 Entry ( 1970-1971) together this year for a 50 year anniversary of joining the RAF, but COVID got in the way.
He would now like to arrange a get together of Admin Apprentices training at Hereford in 1970 and 1971 which would include the 317th, the 318th , his own very large 319th and the junior (320th) entry.
The venue will be at a Hereford hotel that will be announced later and will include a dinner dance. Peter would also like to think a visit to the SAS base at Credenhill might be arranged although it must be said that many have tried and failed to arrange such a visit).
The proposed date for the event would be in May 2022. As mentioned above, please contact Peter direct via email if you are interested in attending this event.
Back to noticeboard
Noticeboard archive