26th February 2022
Obituary For Des Skinner (41st Entry Supplier)and Squadron Leader Navigator – Tony Collins (46th)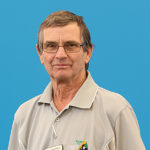 Des sadly died on Tuesday 22nd February 2022 following a battle with emphysema, his wife Maggie and his children Ruth and Mark were with him at the end.
Des joined 41st Entry Admin App in September 1960 at Bircham Newton and passed out as a Jnr Tech Supplier One. He was posted to Benson and given the Priorities Desk – which he rated a great job involving the Queens Flight and the relatively new Argosy, he also worked on the ill-fated TSR2 till late 1963. He volunteered for Maralinga (Australia) and moved to RAAF Edinburgh in 1964. In August 1966 he was posted back initially to Coltishall but on arrival was told that he would be going to Biggin Hill for Aircrew testing and this led to OCTU and eventually becoming a Flying Officer Navigator. He was posted to Waddington for a short tour on Vulcans followed by a posting to Abingdon, flying the Andover which he flew on 46 and 48 Squadrons. He became an instructor at 242 OCU then Examiner at Thorney Island until the axe fell on the Transport world with the 1975 Defence White Paper. He took voluntary redundancy in April 1976 in the rank of Squadron Leader. Together with his wife, Maggie, he settled in York and worked in Industry at Wetherby but decided to return to Australia in June 1981. His sister had emigrated in 1963 and his parents in 1966.
He settled in Beresfield, NSW and worked for 'Yellow Pages' (telephone directory) for 5 yrs before becoming Supply Manager for a coal mining equipment manufacturer. He spent the next 15 yrs travelling the world for the company until he retired in 2001. Apart from Soccer, which he played for many years, Des became a player and then administrator of Lawn Bowls at the local, State and National level. He was Newcastle District Bowling Association, vice-president and state councilor to the Royal NSW Bowling Association from 1997 to 2004. He has been a Bowls Australia director since 2007 and president since 2012, as well as being a Beresfield Bowling Club board director for over 18 years.
Des was a member of the Australian Regional Group along with Ian Bell, David Brandon and Tony Collins who meet up monthly for a catch-up lunch and are located in South Australia. Des resides in another State (New South Wales) so contact is by video Messenger. Both David and Des were Suppliers and had known each other whilst at Maralinga. All four of us had been in South Australia in the early/mid-1960s – Tony at Edinburgh, Ian at 15 JSTU (Edinburgh) and Woomera, David at Maralinga and Des at Maralinga and Edinburgh. He will be missed by us all.
41st Entry Reunion 14/15/16th January 2009 Thorsby Hall Nottinghamshire
Since Bill, Dave and I had the idea of seeing how many of the 41st we could get together, time seemed to drag as we inched towards the agreed date of 14 – 16 January. Even at Christmas it seemed an age away and we were still trying to discover where some of the Entry had gone. It was with some surprise, and a little trepidation, we realised at the beginning of week commencing 12th January that the great day was almost upon us. We decided to get to Thoresby Hall a little early to be sure everything went as smoothly as possible.
By mid-afternoon on Wednesday 14th January we had all somehow found the bar! Guinness and wine was flowing freely and Warner Leisure were definitely looking forward to bumper profits. You can imagine how it was – a few of us had been in touch but others hadn't seen each other in years so we all looked carefully with the same thing in mind – would we recognise each other?
Amongst the early arrivals was Ken West with his much better half – Anne. I recognised him straight away and we were soon insulting each other as if 40-odd years hadn't intervened. Soon after came Bob and Penny McKnight. I recognised Bob at once, even without his bugle! Bill Jefferson was already there when I arrived but, much to my surprise, was in Reception and not the bar. We soon remedied that state of affairs.
Dave and Aileen Angood weren't far behind. Dave's red wine antenna was already in good working order and he was soon all over the place pumping flesh and making everyone welcome. Don't know where he gets the energy from! Dave King arrived with his wife Sue and, except for a little more of him and grey instead of blonde hair, was instantly recognisable. We did seem to be getting over-run with Suppliers!
Dave Gilbody and his wife Angie soon entered the fray. Dave had a very distinguished head of white hair but we were pleased to see he still had his sense of humour – actually he's daft as a brush but can't hold a candle to his wife Angie! We then saw Ian Field (otherwise known as Scotty) arrive with his better half, Kath. Some of you may have seen that Scotty was believed deceased – you may trust my word when I tell you that he is most definitely alive! Just when I thought the Clerk Secs were fighting back more Suppliers turned up.
There stood Roger Bennett and his wife Eleanor. We subsequently found out that he had ambitions to become a barman (it's a long story) but his wife soon put us straight. There were one or two comments regarding booze-ups and breweries! Lo and behold in came another Supplier – Phil Oakley with his wife Ann. Despite the advancing years you would recognise Phil on any wanted poster (and probably Ann as well). The Clerks were getting themselves outnumbered but then in walked Eddie Venn and his wife Carol. That definitely evened up the score since we are now convinced that Eddie must have multiple personalities – and all of them crackers. He could out drink us all, out dance us all (just ask Aileen Angood) and even took time out to go to Woodhall Spa to play golf. Whatever he's on the rest of us want some!
At this stage the Pay Accountants seemed to be missing but then I spotted two of them. Graham Gill was instantly recognisable but much smarter than I remember him! Must be that white hair! I then looked at one of the guests who I hadn't recognised at first but then realised it had to be Fred Shepheard. The ginger haired slim boy of the sixties was neither slim nor ginger but looked extremely prosperous as befits a former Pay Accountant! Fred and his wife Margaret were a very welcome addition to the gathering crowd.
By the evening the Pay Accountants ranks had been swelled by Stuart Sewell and his missus. Stuart was no longer that smart young debonair apprentice but had become a white haired, white moustachioed man of distinction. You would never believe he was from Doncaster! However we had a witness in John Cleland – also a Doncaster man – who managed to get himself into the Spa facilities by pretending to be Dave Angood! Finally we had Mike Lucas and his wife – you will all be pleased to know that Mike Lucas is still much too tall for his own good!
That first night at dinner the hotel had put us in an area all to ourselves. We believe that they had heard one or two were coming up from Devon and Cornwall and were trying to protect their other guests! Dinner was very good and thereafter we got back to the bar (as you can see apprentice habits die hard). I certainly slept well that night, quite happy and relieved that things had gone so well. Certain persons however managed to keep the bar staff up until the early hours of the morning and ignored pointed comments such as "Would sir like a final drink before I close the bar?" It fell on deaf ears!
The next day we all had breakfast – and very good it was too. Reminded many of us of those wholesome meals in the Apprentices' Mess at Bircham! Many of us then repaired (to the bar of course). Some of the wives went off to Boundary Park (a very large shopping centre near Grantham) with their very own private chauffeur in the shape of Dave Gilbody. Some went off to explore Worksop – fortunately we didn't hear their final report on the facilities Worksop has to offer!
Others explored Thoresby Hall and the grounds. Bill Jefferson signed up for the bowls tournament on the Wii game board and very nearly got seen off by a very old lady who hadn't a clue what she was doing. Young William just managed to beat her by four points!
Dave Angood and Mike Lucas also had a go but shall we just say that the world of electronic bowling need not worry! This was the day that Eddie and Carol Venn went off to Woodhall Spa to play golf. What I want you all to consider is this – Eddie and Carol left Devon early morning on the Wednesday and drove up to Nottinghamshire. Eddie then managed to stay awake until the early hours and gave the bar staff a very good run for their money. On top of that he (with an accomplice by the name of Aileen) managed to disturb the sequential dancers on the floor by doing a very energetic version of the jive. He was then up at the crack of dawn, had breakfast, drove fifty or so miles to Woodhall Spa, played a round of golf, drove fifty or so miles back and still kept the bar staff up again that night until the early hours. Now I put it to you – he has to be on something!
That night Peter Bylett and his wife Ruth joined us at dinner (and in the bar of course). He had just driven over from Anglesey to be with us and soon found himself roped into the general fray of ex-apprentices.
At breakfast on Friday morning we were all surprised at how quickly the days had passed. The whole thing had been very enjoyable and it was really good to see old faces and renew old friendships. We all reminisced like mad (although I am sure someone mentioned that nostalgia wasn't as good as it used to be!) At this point I have to say that all libellous references (particularly to me) have been deleted from this report.
We said our goodbyes and went our separate ways. However we are determined to get a 50th anniversary reunion organised. At the moment we have some very tentative proposals but so you can think about it here they are:
13th September 2010 (we signed up on 13th September 1960) is a Monday. We thought that we might be able to obtain accommodation at the Caleb Hall Hotel in Old Hunstanton. It only has 40 bedrooms but there's nothing bigger anywhere in the area. We thought we just might be able to fill the place and have the hotel to ourselves. We thought arrive on the Monday, Celebration Dinner that night in the hotel followed on Tuesday by a trip to Bircham Newton. We might organise a bus for the day but we would need to have some idea of numbers so we can work out transport requirements and costs.
I should be able to fix it up with the CITB at the camp for us to wander around. Perhaps we would find some place to have lunch (perhaps a trip to Sandringham providing we don't tell the Queen beforehand) where we could have lunch in the restaurant, a stroll in the grounds or a visit to the house. Dinner would again be at Caley Hall on the Tuesday evening and we are trying to come up with something for the Wednesday – perhaps at leisure in Hunstanton or perhaps a visit to our old haunts in King's Lynn? Suggestions would be most welcome. The arrest warrants in King's Lynn should have expired by now! One last night in the hotel and then disperse after breakfast on the Thursday.
We thought this might be more of a holiday break for people rather than just a short hop into the wilds of West Norfolk.
I will be checking out the hotel and Bircham Newton soon but of course if we do decide to go for this we will need to start booking accommodation fairly early to ensure that in 18/19 months time we can accommodate everyone who wants to come. You can check it out yourself on line at www.CaleyHallHotel.co.uk If you are interested then please let me know (telephone is 01366 500109 or e-mail me at barrie.loftus@virgin.net) and we can start planning the event. I know many of you won't believe I am a born again Virgin but trust me the e-mail address is correct! We had a few bob left over from the reunion so we do have limited funds available to start placing deposits but we really do need to have some indication of how many would be interested so we can work out funding etc.
Photographs from the reunion at Thoresby Hall have been posted on the internet but keep checking the site from time to time since more might have been added.
To those without a computer I apologise but if you talk nicely to someone who has a computer I am sure you will be able to find the pictures – if not, give me a call and I'll give a link to follow.
Finally, from Bill, Dave and myself a big thank you to everyone who made the reunion so enjoyable.
41st Entry Reunion – 16th-18th April 2012 At Thoresby Hall Nottinghamshire
On 17th April 1962, 75 members of the entry graduated (much to the surprise of many instructors) and managed to remember how to turn left and right in order to complete their passing out parade. Fifty years later we met at Thoresby Hall in Nottinghamshire to celebrate the fact that most of us could still remember how to turn left and right (one of the most valuable lessons ever instilled into us youngsters!)
We arrived at Thoresby on Monday, 16th April and, as is the way with former Apprentices, we soon congregated in the bar. That evening we were delighted to see that the hotel management had allocated us our own dining room (probably to protect their other guests) and this certainly helped us all to renew old friendships.
We had a few foreigners amongst us – Des Skinner had come all the way from Oz (former penal colony – very appropriate), Ian Dennis had arrived from Cyprus and Brian Granville had come to the UK from Cyprus via Australia (his sense of direction never was too good!) An honoured guest was Tom Goggin who, in the early sixties, had had the unenviable task of trying to train some of our lot in the ways of supply. That he succeeded is a compliment to his courage and endeavour!
On Tuesday, 17th April we left everyone to their own devices during the day. Some used the spa facilities (we know them as masochists), some made full use of thebar facilities (comment would be superfluous) and a few explored the area. Some went to Sherwood Forest where a well known chap took money from the rich to give to the poor – unlike a certain well known chap in Westminster today who does exactly the opposite!
During the day we were subjected to a shock. Harry Gilbert (formerly of the 42nd) had managed to evade the police cordon and turned up to help us celebrate our pass out from 50 years previously. Actually he said we should all bow to him because this time 50 years ago he was now the senior entry! That night at dinner we had a few speeches – Eddie Venn chaired the proceedings and demonstrated once again how the English language had passed him by! Brian Granville responded eloquently and told us that he had enjoyed his time at Bircham Newton. We all agreed that was only because he never got caught! Phil Oakley amazed us with a few anecdotes and an amazing grasp of poetry (what a memory for one so ancient!) Finally Harry Gilbert regaled us with a few tales which cannot be repeated in print for fear of retribution through the Courts.
Wednesday morning arrived much too soon and the so-called "organising committee" of Bill Jefferson, Dave Angood and myself (otherwise known as the "lumbered") bade everyone goodbye and a safe journey. I did suggest this was a dangerous thing to do with former members of the 41st entry – and so it turned out. We have been asked to organise another reunion for 2014 when most of us will have hit the magic number of 70 years of age. Worry not therefore, we will be attempting to obtain money from you at some stage in the future so that we can test our drinking arms once again. In the words of the famous old song "Don't know where, don't know when" – but be assured we will be meeting again!
39th, 40th and 41st Entry Reunion Bircham Newton September 2010 Photographs Courtesy Of Barrie Loftus Click Here To View
April 2012
Postscript – Daily Mail Article 9th February 2013
Last November, Dave Angood of Coningsby, Lincolnshire, was looking for members of the 41st RAF Administrative Apprentice Entry, who joined at Bircham Newton in September 1960 and graduated in April 1962.
Those of the group who are still in touch got together last year in Nottinghamshire to commemorate the 50th anniversary of their graduation. 'It was a great success,' said Dave.
"Members came from as far afield as Australia, Cyprus, France and Germany, as well as from around the UK. So far we've found 37 of our 74 members. Now we plan to hold another reunion in two years to celebrate us all reaching the age of 70. Could you help locate some of the missing members? My photo shows a few of us outside our barrack block at RAF Bircham Newton in 1961. I'm seated at the front. The others are Mike Lucas, Bryan Cross, Dave King, Brian Hopper and Ken West."
The story brought forth Roger Milsom, one of Dave's missing 41st Entry members. He told us from his home in Spain: "My wife, an avid reader of your column, spotted the story."Missing pal Colin Hodnett was also found, and Barry Green sent us this message: "I was stationed with Dave at RAF Northolt in the late Sixties and he was best man at my wedding to Dawn in 1971. I lost contact with him when I got demobbed more than 40 years ago.It would be great to hear from him."Dave was delighted with these renewed contacts.
41st Entry Reunion Nidd Hall, Yorkshire 16th to 19th May 2016
Fourteen of us braved the Yorkshire hordes and arrived ready for battle on Monday 16th May. Bill Jefferson, Dave Angood and I had been visiting Nidd Hall frequently prior to the invasion to ensure that all went well. We're very pleased to say that Nidd Hall did us proud.
The dining arrangements were spot on and the food was very good. We had great fun with our waitress trying to guess where she came from – someone thought Skegness since she had a strange accent but by the look on her face we guessed that might be wrong! We did eventually discover she was from the Czech Republic – come to think of it not too much different from Skegness.
After the first evening testing the bar's capabilities (not too bad) we all did our own thing on the the next few days. A few highlights to contemplate. Dave King decided to visit Skipton but somehow managed to find himself in completely the opposite direction somewhere on the North York Moors. Good job he wasn't a Navigator in the RAF, during the Falklands War he would have bombed the hell out of the Isle of Wight.
We had a very interesting lecture one afternoon about life in the 40s and 50s. It was so interesting that Ken West managed to sleep through it except for one or two intervals when his much better half (Ann, I do mean you) planted a well aimed dig in the ribs to prevent his snoring breaking windows. As you can see he hasn't changed a bit.
The highlight of the week had to be our Thursday evening grand bash. We met for cocktails and canapes in the Mountgarret Bar. I think I might stick to Guinness in future and although the canapes were very tasty I think I prefer a bacon sarnie any day. Nevertheless, the company was good. Sobriety has never been a strong point with former Apprentices and so it proved again – the cocktails were soon gone and even the canapes disappeared at a rate of knots – accompanied by some quizzical looks of those thinking "what the heck have I just eaten!!"
I've been trying to notify everyone where to go to see the photographs but unfortunately Google is about as helpful as a chocolate fireguard. I think the link below might work:
https://photos.google.com/share/AF1QipOwNT58b2ryhOPHaQFM8Sh_NLbip04d8AAqP3nzlKLgnaj9cCOg0oG0PudCn3be0g?key=VGtYcXBtNF91YWFaV0tQOWpGdHI5OEc4ZkhyaC1B
If you highlight the link and press Ctrl C, go onto your server (Firefox or whatever), put your cursor in the address bar and press Ctrl V followed by the Enter key you should go straight to the Album page. Please let me know if the link doesn't work and I'll try again. On those photographs you will see the craziest version of Phil Oakley ever to be placed on a public forum. In fact I cannot resist letting you all see Phil in action.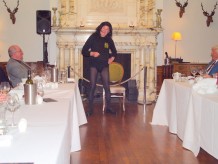 On the final night we also had a little surprise for all attendees when we were able to present them with lapel/tie badges of the 41st Entry Shield. Here's picture of one still pristine in its protective plastic bag:
If anyone is interested in acquiring this little gem then please get in touch with Bill Jefferson – e-mail, telephone or smoke signal (he answers them all). There will be a charge to cover postage and packaging .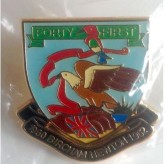 We are already being asked if we are daft enough to do this again – of course the answer to that is "yes" so stay braced for further news once we can get the old grey matter working again. If anyone has any ideas as to format, venue etc etc then please let one of us know.
All in all the latest reunion was excellent and the company was first class (but what else would you expect from former Apprentices?) We'll be in touch – there is no escape!
Barrie, Dave and Bill
2nd June 2016
Barrie Loftus
Have You Any Photographs Or Other Memories Of the 41st Entry RAF Administrative Apprentices? If So You Can E-Mail Them To:
administrator@rafadappassn.org