12th October 2023
The following subitted by Rick Parks on reaching 80:
Dear Family, Friends and Mates,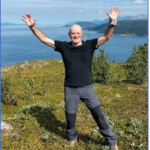 So many of you have contributed to my life, happiness and adventures. Reaching the age of eighty makes you look back on life, and I realise how much you have added, being part of my eighty years.
Thanks everyone for all the experiences we have shared and I will be thinking of you all on the 13 November 2023. – Rick Parkes.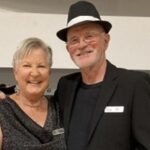 "We need to cultivate a universal responsibility for one another and for the planet we share, based on a good heart and awareness." Dalai Lama on his Eightieth birthday.
14th July 2023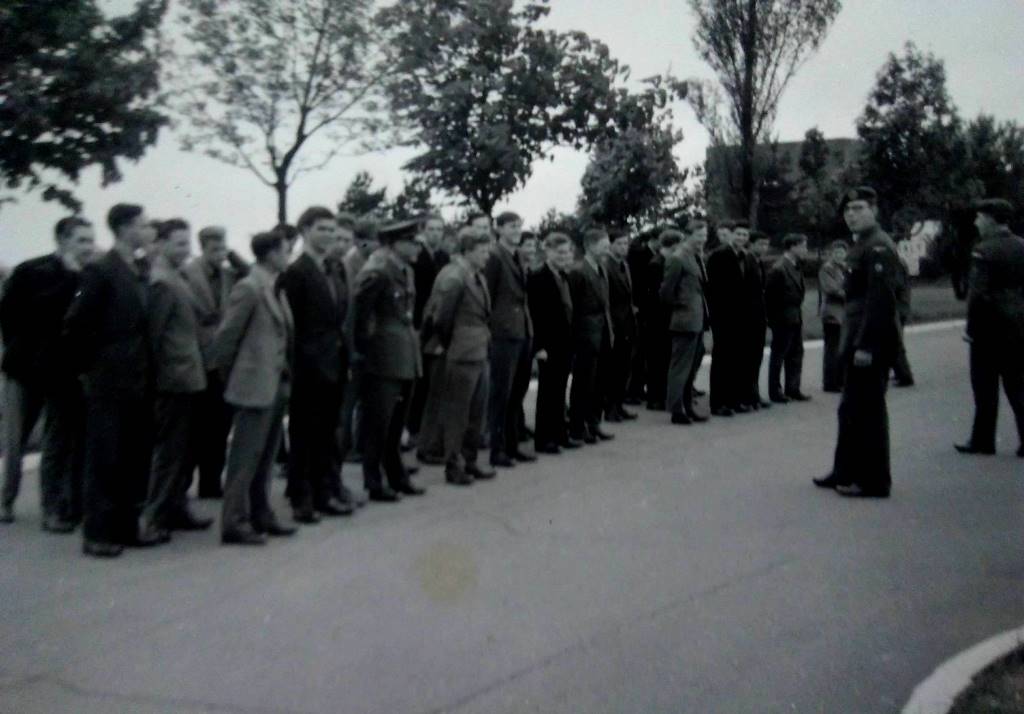 An image provided by Mike Hamil dated around 17 May 1960 the date of 40th entry recruits arrival at Bircham Newton.
The individuals already in uniform were apprentices who had remustered from apprenticeships at Halton, Locking or Cosford.
40th Entry Main Image Gallery
The photo (above row 4 Second from left) is courtesy of non member Don Gosling (40th EntryClerk Sec) in his 'band attire'. Don was Trumpet Sergeant in the Admin Apps Band at Bircham Newton. The band of course also had a Drum Sgt as well as a Band Major.I have spoken with a couple of ex App Bandsmen and none of them can explain why the Trumpet Sgt wore 4 inverted stripes?? One would imagine it should have been 3 (??).As an aside, you may wonder why Don is a non-member. He was a 'high-flier' RAF Clerk Sec serving with HQ FEAF; when nearing his 12 year exit point he suddenlydiscovered he could not sign on!! He was, at the time, working for an Army 2 star who arranged for him to transfer to the Army (RAOC) and it was even agreed he stay on at Changi and merely swap uniforms. However, for whatever reason, PMC insisted he returned to the UK for discharge – which he did, despite protestations from the the Army, and subsequently joined the Army later. He did a pensionable engagement with the RAOC eventually retiring as a WO. Therefore, Don feels his loyalty rests with the Army. He is well aware of our web site and has agreed the photo can be included in the 40th entry scrap book page – assuming youagree to this of course.
Administrator Note: Thanks to Don and to Dixie Dean who sent both the photo and the above explanation of Don's reasons for not becoming a member. It would be interesting to know the answer to the why the Trumpet Sergeant had four stripes. Anybody know?
The AATS band had a Drum Major at the time which was Mike Boyle, Don was the Trumpet Major, I was the Corporal Drummer (leading drummer), there was no Sergeant Drummer. Technically the Drum Major was the person leading the 'band', whilst called Drum Major he had no influence on the drums, that was my responsibility.The Drum Major had four stripes, as did the Trumpet Major, the reason for four stripes was not questioned at any time, it was as it was!Our Bandmaster was a Sergeant and a 'delightful old chap'.
Administrator Note: Now then this still does not answer the question as to why these particular bandsmen sported 4 stripes so we are none the wiser!! Certainly when I was a 29th entry drummer with the band at Hereford in 1956 I cannot recall George Masson our Drum Major wearing 4 stripes.
As published on the noticeboard on 3rd October, here is another answer to the question of why the Drum and Trumpet Majors sported 4 stripes. Thanks to Trevor Moore (14th/15th)
Administrator Note: I have had a couple of responses to this one. Here is the one from Trevor Moore (14/15th Entries). Thanks Trevor – this is as good as it is going to get UNLESS OF COURSE ANY OF YOU KNOW BETTER…. I will add this account to the 40th entry page for posterity!
'If you refer to the scrapbook photos of the 15th Entry you will find a pic of the Graduation Parade in 1953 of the 15th Entry and showing the Inspecting Officer talking to AA Bill Bailey (he is a member of the Association). As you will see, Bill has 4 inverted stripes with a drum above (metal badge) and this was the insignia for the Drum Major – he was always at the front of the band and carried (and swung to great effect) the Mace.
This "rank" had no authority (unlike a Sgt, Cpl, or Leading Apprentice hence the stripes being inverted. It was purely a band insignia and the "drum" had no connection with drum playing. It was officially accepted. Drum Majors exist in many bands and are the lead (and mace) position for ceremonial purposes.
To the best of my recollection Bill Bailey was the first Drum Major when the band was formed. One of my old pics shows members of the 14th, 15th 16th and maybe 17th in band formation. I think the band was formed at the time of the 13th/14th Entry at RAF St Athan in 1952/53. I was also in that band (lead trumpeter) and most of us had ATC or Boys Brigade band backgrounds hence selection for the AATS band.
Interesting to note that Bill had the 4 stripes but was also eligible to wear his 2 GCB stripes but there was simply no room on his sleeve.! The other metal badge on his left sleeve, below his wheel, is the RAF voluntary band badge which we were entitled to wear with our uniform.
Gallery Of Photos Courtesy Of Rick Parkes

The 39th, 40th and 41st Entry Reunion Bircham Newton September 2010 – Photographs Courtesy Of Barrie Loftus
A Comment By Colin Mabbs 593933, ex 40th Admin.
Finally had the chance to look at all the photos of the above, yes I know it was 4 years ago. In many ways I'm glad I did not come the reunion as looking at the photos I did not recognise anybody but Des Skinner. AlthoughI was a 40th entry and Des was a 41st we did meet up when we were posted to Australia (and played football in same team). There were/are some reasons I did not get to the reunion, one – I was downgraded to Boy Entrant in November 1960 and posted to Hereford, the other was in 2010 I was in a bit of dispute with the RAF trying to find some of my medical records which were either missing or not written up so I was not best pleased at the time.
This year I was hoping to meet up with Des Skinner at the Commonwealth Games in Glasgow as we share the same interest of lawn bowls however sod's law butted in as I have a stroke and was not fit to travel etc. Most disappointed I was but Des. was kind enough to phone me up the day after he arrived and again the day before he departed – good on 'im. Not particular happy times at Bircham for one reason or another but at least Hereford were happier days. I've a lot of mixed feelings re the RAF but I still like to see the planes flying and we usually get sort of buzzed by them when out walking over the moors and hills faraway and at times feels as though I have some sort of homing in beacon attached to me.
So my apologies to all.
Best regards,
Colin Mabbs
593933, ex 40th Admin.
39th, 40th and 41st Entry Reunion Bircham Newton September 2010 Photographs Courtesy Of Barrie Loftus Click Here To View.
David John Anker 1944-1994 Aged 49 Years – Dixie Deane 40th
David Anker, aged 15 years and 8 months, arrived at RAF Bircham Newton on 17 May 1960 along with all the other new entrants of his entry. He came from Stalybridge and regularly regaled us with stories from that area especially Stalybridge Celtic FC. He was a cheerful, outgoing and sometimes outspoken Lancashire lad! He had a library of his own made up songs such as "Land of Fish and Chip Shops" to the tune of Land of Hope and Glory. He was a likeable person, kind and considerate to others.
In David's view, no meal was a meal unless it was eaten between two slices of bread and this he did breakfast, dinner and tea. He only stopped doing this after several weeks of being cajoled by his colleagues.
He loved messing about on the sports field – well anything that would distract him from studying – and liked football and rugby, in the latter he represented the AATS fifteen.
The 40th Entry Passing Out Supplement in the Spring 1962 "The Apprentice" magazine contained the following pen picture of David: AA Anker. Passed out SAC (Jnr Tech in trade), posted to RAF Finningley. "ANKERS ON JANKERS" became a popular phrase used by all from the CO down. When not singing the praises of Stalybridge (the finest city in Europe) he took time off to play rugby and occasionally do some work.
As far as I know, David served at the following RAF stations: Finningley, Gan, Oakington and Waddington and his last posting was at RAF Boulmer. He left the RAF as a Cpl on 30 April 1974 on completion of his 12 year engagement and returned to his beloved Stalybridge where he had indicated he intended to retrain to become a nurse.
I tried to trace him, with no luck, a few years ago for the combined fiftieth anniversary event that was held by the 39th, 40th and 41st entries but we did have unconfirmed reports at that time that he had passed away. A few days before the date of this article, I received some snippets of information via Facebook which eventually put me in contact with David's sister in law who knew him well. Sadly, she confirmed that David had died suddenly as a result of a heart attack a few days before his 50th birthday. On leaving the RAF he fulfilled his desire to retrain as a nurse and also for a few years been a Labour Councillor on Oldham Council. David had up until his death had been a Charge Nurse on a busy and demanding A&E Unit – a measure of the man.
Have You Any Photographs Or Other Memories Of the 40th Entry RAF Administrative Apprentices? If So You Can E-Mail Them To:
administrator@rafadappassn.org