Click Gallery Images To Enlarge
The main image gallery from the first website reconstructed
22nd April 2019
Anthony Johnstone has kindly sent an extract from the London Gazette relating to his award of a mention in dispatches in the 1950s. The London Gazette entry also mentions another ex-Administrative Apprentice,
Anthony Johnstone London Gazette Entry 20-05-1955
A Mention In Dispatches – Anthony Johnstone
In regard to my MID I do not think I have ever told the full story, nothing really distinguished but strange in its self.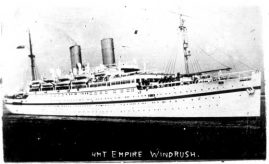 In July 1952 I had a very eventful voyage on HMT Empire Windrush from UK to Singapore taking 33 days in all. There was no shore leave during the voyage. The engines used to stop every 3 or 4 days and we stopped everywhere, Suez Canal, Aden, India, Ceylon. I was initially posted to Changi Main Stores to a very mundane job, as a Cpl, in the then new Equipment Provisioning and Accounting Section.
Then out of the blue in October I was posted to 389 MU at Seletar. They were receiving a dozen National Service recruits, straight from 'square bashing', every 2 months and trying to teach them too be suppliers with 'on the job' training. It did not work and the powers that be decided to set up a part-time training school; 3 weeks in the classroom, 4 on site and a final week in the classroom with an examination, set by Hereford, to qualify as storekeeper.
I got the job to set it all up from scratch, no teacher training, and on we went until I finished my tour in November 1954. I was really glad of our typing training at Apprentice School I had to learn how to cut stencils to get the paperwork set up. We progressed from basic training to mail-order promotion training for Supplier I's and II's and following on with a classroom course for the whole of the Far East Air Force. This of course was the time of the new trade structure so no history to work on or refer to. I do forget a lot of the day to day details but I managed to get Gerry Woods, fellow 3rd Entry, involved the following year and two others, one being Geordie Stewart from the 5th Entry. I also vaguely remember also getting involved in promotion training for the civilian staff on the MU, its too long ago now to remember everything.
Note
My thanks also to Anthony for the excellent photograph (Top Row Middle) taken whilst he was serving at RAF Seletar. Anthony is to the right of one WO Charlton (a member of the well known footballing family that included Bobby Charlton of course).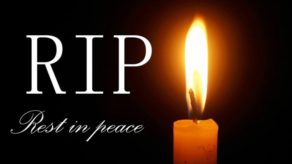 Obiturary Jack Rowell – Den Russell(3rd)
I met Jack when the 3rd Entry was "inducted" at RAF North Weald in 1948 where a motley congregation of 16-year-old scruffs from around the UK gathered there to sign their lives away. Some chickened out after only one night and were given rail warrants home – the rest of us, mostly suffering from pangs of homesickness, listened intently to the briefings before being escorted across country to a rain-soaked St Athan. Jack ended up with me in the infamous Hut D5 (there's a photo on the Apprentice web site) where Flt. Sgt. Davis, the Beezer Henderson, Sgt. Bradbury, DannyWeir, et al began knocking us into shape. Jack hailed from Haslemere in Surrey and with his Home Counties accent appeared to me as better suited to the playing fields of Eton than being bawled at on the square at St Athan, though like myself he was not at all athletic. When being addressed he had that little quirk of blinking rapidly, brows furrowed as he listened to what was being said – making him appear rather intense. In fact, he had a terrific sense of humour and a light-hearted outlook on his lot. On one of those short "mid-term" breaks we were given, he invited me home with him and we spent the few days meeting up with his friends and relatives in and around that beautiful part of Surrey.We thought we were the bees' knees swanking in our uniforms down the High Street and wondered why the local girls didn't throw themselves at us. When they didn't – we concluded they were all at school or at work or just not looking! When the 3rd "passed out" my nearest relative available and willing to attend was an uncle from Reading. Jack accompanied me to meet him off the Barry train after which he took us for a pint, as you do! As this was our 'christening' – our introduction to the ritual of having a friendly pint, we travelled back to camp with our heads out of the train window, one on each side of he compartment, being violently sick! We met up again at AAFCE Fontainebleau. Allan (Jim as ever was) Hawkins, TonyWarrillow were both there at the same time. I had married at that time and we had one of those little roof top garret flats on the main street. On one occasion, when Jack dropped round for a visit for tea, he pointed incredulously at the tea pot and spluttered "That tea pot reminds me of my girl friend!" She apparently had a similar one and was not in fact, shaped like a teapot! He took the chiding he received in good spirit. I contacted him again when I joined the Association but missed him at the couple of the Annual meetings I attended. I understand he worked as a civilian at SHAPE when his service ended and, happily married, retired to the wilds of Lincolnshire. We never did meet up again. So my abiding memory is of the youthful A.A. Rowell, Jack, peaked cap bashed into a reasonable facsimile of a Nazi Luftwaffe pilot set at a jaunty angle, smiling, blinking bemusedly at the passing scene.
RIP, Jack.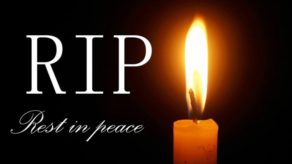 Obituary Robin Glanfield – 3rd Entry
Robin Glanfield was not a member of our Association, but was well known as an Admin Apprentice at St Athan, where he was an extremely smart and popular App. My main contact with him was on Sundays at St Athan when I umpired at Station Hockey Practices. With hundreds of National Service airmen being in the RAF, representing one's station was quite competitive. Further, we Apps were not permitted to try out for the Station teams. There was one specific exception – Robin. He was an excellent and most dextrous hockey player, and represented the Station regularly. He also indulged, if not caught, in undercutting – whereby the hockey ball became a dangerous missile! I should add that these practices were mixed sex, and I quickly realised that females were the most dangerous of the species! Robin represented the various Commands where he served, and
he was also an excellent tennis player. He served in the Canal Zone at HQ 205 Group, Command Accounts (1951-1954) when, at almost every station there, ex-Admin Apps could be found. He was a keen and active member of the Canal Zoners – along with Jim Wilcox and myself, and he acted as financial advisor and auditor for the local branch, where he was a most popular member. He had been in good health, but had a nasty fall and went into a coma, from which he never recovered. He had cared for his wife Heather, who had suffered from cancer for a number of years; sadly she passed away within a month of Robin. Vale, Robin, I am sure you will be well remembered. Bill Huggins (5th)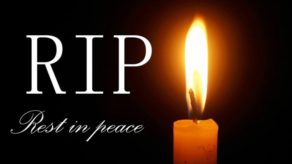 Obituary to Bill Hansford – 592217 (3rd Entry)
On 11th June 2013, our Association along with RAFA Plymouth lost a most loyal member, the Nation lost a true patriot, and I lost a dear friend with the passing of Bill Hansford. I knew Bill slightly at St Athan as an apprentice, but we really became friends when our Association was formed – when Bill immediately got in touch with West Country ex-apps and held reunions.
Bill never married, but some 20 years or so ago, he met Frances, a widow and they became dear friends. Despite neither being drivers, they visited various museums and also attended parades in Devon; always sending me programmes of the events. On a visit to a Royal Marines Museum they were photographed in RM uniforms – I always smile at that one!
I mentioned Bill's national pride, each St George's Day I received a card from him to mark the day; how many of us do that? In the early days of the Association, Bill and Francis attended Annual Reunions, but later the Big C struck and they were not able to attend, but I kept him up to date on events. He never referred to his health, just got on with his life.
Frances is a friendly and amusing character, as indeed was Bill; about 6 or 7 years ago Frances had a stroke, was in hospital, then several nursing homes, before being able to move back to her own home – and where she still lives! From this time, Bill became almost a full-time carer, especially since Frances has had various operations. Bill needed to take two buses, each way, to get to Frances's home.
When my wife and I were in Devon, we would meet up with Bill and Frances and have lunch, it was always so obvious how Bill was treated wherever we ate, he clearly was well liked.
We telephoned each other periodically, and always had a few laughs en route! Bill was a keen football supporter of Plymouth and rarely missed a home fixture; he was so looking forward to the coming season. One event he recounted several times with pride! Whilst on leave in UK, in 1966, he somehow got a ticket for the World Cup Final (older members may recall England won that one!), he really treasured this memory.
I had been trying to contact him for a few weeks to get some information on another member of his Entry, but could only leave messages, then, on 1st July, I received a call from Bill's nephew Paul Jell, who had picked up my messages, and he sadly advised me that Bill had passed away. Bill was taken ill on 11th June, went into hospital where sadly he died.
Paul told me that Bill had been cremated on 24th June, with a number of RAFA members in attendance, and they provided a Union Flag for the ceremony, patently, within RAFA too, Bill was well regarded.
Bill was a quiet, reserved character, but with a warm sense of humour, a man who cared for his friends, and who loved his country. He was invariably polite, and I have no doubt that when we meet he will immediately say "I'm sorry I didn't call you back!"
Bill will be missed by those who remember him, but he will be missed mostly by Frances, to whom we send our love and good wishes. Vale Bill, my dear friend. Bill Huggins 5th Entry.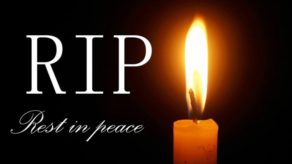 Obituary to James Rayner – 3rd Entry
Our Association lost a 'character' with the passing of James aka "Duke" Rayner. When the 5th Entry arrived at St Athan, theoretically the 2nd Entry were Senior Entry, but to the 5th, Duke (and Paddy Coffey) were the Senior Entry! With their slashed peaks lined up with their nose (how they got past Chiefy Davis is a mystery), Duke and his cohort, like a couple of Gestapo Gauleiters, strode round the Wing with a proprietorial air. They did not have to bully or strike we lesser mortals, their demeanour just overpowered us! Duke attended a couple of Reunions and proved to be a normal ex-admin-app – if this is not an oxymoron – met several old mates, and really enjoyed himself, despite suffering from ill-health. He had recently moved to Weston-super-Mare, "Somewhat of a change from your old home in the 'Smoke' Duke!" Cheers, it was good to know you.
SKR
To View Images Of 3rd Entry Reunions Click Here.
Have You Any Photographs Or Other Memories Of the 3rd Entry RAF Administrative Apprentices? If So You Can E-Mail Them To: administrator@rafadappassn.org