A New Photo Posted On Facebook In November 2018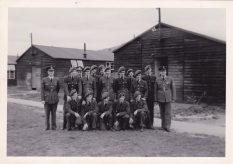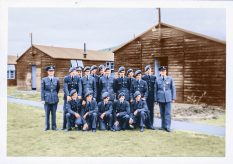 My thanks to Peter Lee who regularly takes the time to remaster black and white photos. His colour picture here is really impressive.
Obituary Frank Carroll
I first met Frank in September 1959 when we arrived at Bircham Newton as prospective apprentices to join the 38th Entry. The young Frank was a cheerful soul whose hallmark was an impish sense of humour and an inimitable "scouse" accent.On graduation in 1961 we both departed our separate ways as Suppliers 1, he to RAF Cranwell. His subsequent career took him, like all of us through a number of postings, both at home and overseas. Including Sharjah and RAF Germany.Our paths crossed at irregular intervals and Frank remained unchanged, still with the sense of humour and still with his hallmark "scouse" accent.A commission and further postings as a Supply Officer followed his well-deserved promotion to WO. He subsequently retired in 1993 as a Sqn Ldr.After a short while working in civilian life he and Barbara moved to full retirement in Spain at Refelcofer just outside Valencia. Here Frank managed to find the time and resource to obtain a Doctorate in Geology based on his study of the island of Malta. The thesis now sits in many university libraries both here in the UK and overseas.A remarkable achievement.As was usual he and Barbara entered enthusiastically into local life and Frank quickly established himself at his local golf club and subsequently as the AAA representative for the Spanish enclave of Admin Apps. I was fortunate to visit Frank and Barbara in Spain and also met him at various association reunions. remained always the same guyI had first met all those years ago. Frank Carrol died of lung cancer on the 18th May 2015. He was a great fellow and will be missed by us all.
To view images of 38th entry reunions Click here
Have You Any Photographs Or Other Memories Of the 38th Entry RAF Administrative Apprentices? If So You Can E-Mail Them To:
administrator@rafadappassn.org