3rd August 2020
My thanks to Ray Holland for providing the images contained in the following gallery:
I first met Andy when he joined the Royal Air Force as an Apprentice in 1972. The door to my classroom opened and a group of young men all towards the back was a little lad looking apprehensive but determined, this was Andy.
During his 12 months training he showed his qualities as a team player in and out of the classroom. Always cheerful and ready to learn, attributes that clearly came from his parents who I had the pleasure of meeting on a number of occasions over the years.
Andy will be remembered for his professional skills (I never met anyone who had a bad word to say about him) and his interest in others. An enthusiastic player on and off the pitch he organised hockey teams doing jobs that others tried hard to avoid!
I remember his sense of humour. Frequently on the receiving end of the 'Little Andy' jokes such as 'Stand up Mr Sperring, oh you are standing up' At the last 330 Entry Reunion he had to climb onto a table before being allowed to 'say a few words' These were greeted with applause and laughter as he had to be lifted down.
When we last met he told me how happy he was to be with Lesley and with his usual cheeky smile, how determined he was to beat his illness.
Andy will be remembered with affection by the many friends that he made during his time in the Royal Air Force. Raise a glass, I am sure that he would not want it any other way.
Frank Hubber
Russ Bond of the 330th Entry is the last former administrative apprentice to leave full time service in the Royal Air Force. Russ joined the RAF as a Clerk Sec on the 4th September 1972 aged just 15 ½ and is the last of some 8,200 former apprentices to retire. To mark the occasion a luncheon was held at the Halton attended by other members of the 330th Entry and also Bryan Schofield. Following retirement Russ is hoping to become a Beefeater in the Tower of London.
Russ is pictured centre in four of the attached photographs taken at Halton House with Kevin Wise and Garry Hoyland all members of the 330th Entry Administrative Apprentices; they were joined in the fifth photograph by Bryan Schofield, the Chairman of the RAF Administrative Apprentices Association.
Obituary To 8001969 William Cooper  330th Entry – Bill Huggins 5th
My acquaintance with Bill Cooper was very limited, we met and spoke at a Reunion at Swindon, but when involved with our Newsletter, 7 of our members –
including Bill lived locally, and I delivered them by hand.
I know he arranged get-togethers for his Entry, and I always wondered why he had not attended more of our Reunions.
I attended his funeral in Gloucester and learned what a character he really was!    Very theatrical, he dressed up, impersonated and performed as a number of pop stars of the day, Elvis and the like, entertaining various groups and clubs locally.   For one of his performances, he dressed normally but then proceeded to
deliver a monologue in the voice and style of Pam Ayres – the audience was delighted and very amused.
For his church, with others, he went as a missionary to an area of deprivation in Africa, where they were much appriviated and admired by the people there.
However, what struck me at the Memorial Service was the number of attendees of all ages, and listening to the various speakers, it was clear that he was dearly
loved, very involved, and respected by them all.
Life is not about what we take out of it – but rather what we put into it.    Clearly Bill knew and demonstrated this.     Vale  Bill
To Browse Your Entry Reunion Pictures And Accounts Click here
item and photo below Found on The Real RAF Apprentices Group Facebook  Page October 2018
1973 Admin and Craft Apprentices Football Team – Keith Appleyard 330th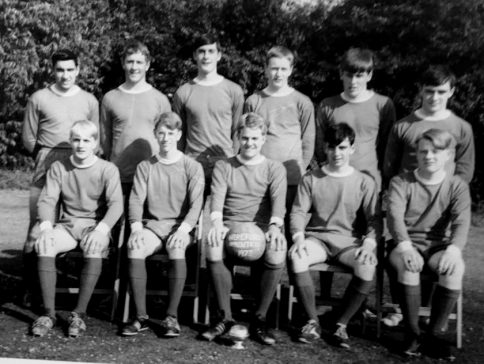 Having seen a couple of posts about posting a photo of earlier days in the RAF, I have found this going back to 1973, when 330 entry (The last but unsurpassed-some may disagree), Craft & Admin Apprentices Football team won the inter apprentice trophy 45 years ago at Cosford. During my 39 years Service I met up with 8 of the team. The goalkeeper, Julian Calvert is not on the photo. Going from left to right back row, Frankie Clifford, Martin Legg, Myself, Pat Blake, John McCormack, Gordon Pennington. Front row Alex Fleming, Eddie Goodstadt, Nick Eastment, Kenny Hayes & Jock Stein.
Hopefully I have remembered all the names correctly, please feel free to amend if I'm wrong.
 Have You Any Photographs Or Other Memories Of the 330th Entry RAF Administrative Apprentices? If So You Can E-Mail Them To: administrator@rafadappassn.org