January 2019
A copy of Bryan Hoare's AATS report September 1966 – January 1967. Bryan modestly comments:
'It would appear that I was doing quite well, then what do you expect from an ex Secondary educated lad and an ATC Cadet Sgt. My school masters/mistress's always said I could do better'.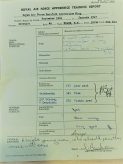 Eric Hills 307th
I am formally SO595465 Admin Apprentice Eric Hills 307 entry RAF Hereford. I have mostly fond and a few "not" so fond memories of my time at Hereford. My be able to find some photos , but am moving house at present on retirement. I served at RAF Hereford Sept 1966 – August 1967 and was posted to RAF Thorney Island on passing out, somewhat disappointed as I lived in Gosport before enlistment. In 1969 I remustered to Airloadmaster and served on 10 Squadron until leaving the regular RAF in December 1976.
It was however, not my last aircrew experience. I flew with the Hampshire Police Air Support Unit 1978 – 1992 partime and fulltime.I was commissioned into the RAFVR(T) in 1977 finally hanging up the uniform in 2006 retiring from the Air Cadets as a Squadron Leader RAFVR(T).(Though I am still serving with the ATC as a civilian instructor.) I would be pleased to contribute further to this association if I can and can be contacted on this email address initially With Regards Eric Hills.
eric.hills@hotmail.com
307th Entry 50th Anniversary Reunion – Bryan Hoare
Below is a link to messages on Face Book reference the 307th reunion at The Three Counties Hotel, Hereford over the weekend of 9th to 11th September 2016. A good time was enjoyed by all in attendance.
https://www.facebook.com/rafadappassn/photos/a.322412891147021.80289.176357062419272/1098341540220815/?type=3
A number of photos taken at the event are shown in the gallery below
Image (left) posted on the RAF Hereford Facebook site in August 2018 by Jim Rafferty.Image (right) posted by Bryan Hoare Sept 2018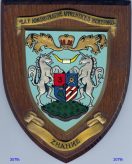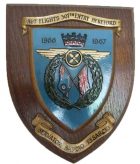 January 2019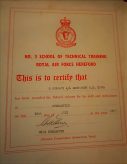 This image discovered by and sent to us by Steve Day, Association Newsletter Editor.