Below: Gallery Of Images Posted On The Original Website
Below: Gallery Of Images Taken Under Training At Hereford – Provided By Steve Day
These photographs taken during the entry's time in Apprentice training from 9 Sep 65 to 12 Aug 66 and were shared at the 50th Anniversary event on 13 August 2016.
Below: Gallery Of Images Taken At The Entry's 50th Anniversary Celebrations 2016
Website Manager Note:
The photographs that were taken during the 50th Anniversary of passing out of Apprentice Training event support the article below submitted by Dave Ainsworth. The photographs were mostly taken by Patrick Whitelam, with contributions from various members of the entry (or their better halfs).

50th Anniversary Reunion August 2016 – A Report By Dave Ainsworth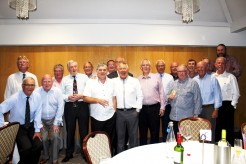 In August 1966, as England was still celebrating it's July World Cup Football victory, 72 Clerks from 'A' & 'F' Flights of No.2 Squadron joined Cooks and Suppliers at a passing-out parade on the square at RAF Hereford. Music came from both a full-time Regional Band and from an RAF Apprentice Wing Band. That RAF station, at the village of Credenhill 5 miles' north west of the cathedral city of Hereford, is now home to 22 Special Air Service (SAS) Regiment. Sadly Apprentice training ceased at RAF Hereford in 1973 with the 330th being its last entry.
On Saturday 13th August at upmarket Lea Marston Hotel and Spa on the outskirts of Sutton Coldfield, 32 attended a 50th Anniversary Reunion, of whom 19 were ex-Clerk Secretarial Apprentices, with 2 travelling from the States. A further 6 sent apologies : Ben Brittain, Peter Burrows, Nigel Knowles & Greg North plus 2 Staff members in Flight Commander David Evans and Trade Instructor – then Sergeant Peter Harris, who'd hoped to attend but for a late family illness. It was the first time an attempt had been made to stage such a Reunion for 304th Entry Clerks. This idea stemmed from Sid Day who'd started the proverbial ball rolling in 2015, before handing the baton to Mike Hudson – who from his abode in far-away Brechin took on the Organiser's task. Publicity was generated by ads placed with Forces Reunited, RAF News, RAF Administrative Apprentices Website, RAF Administrative Apprentices Newsletter, Airmail Magazine, Saga Magazine and mentions in Midlands' local newspapers & radio stations so covering the area chosen for our function. The area couldn't have been more central for allcomers, and was selected after an Organiser's on-site inspection.
The weekend reunion spirit was ignited early as some checked-in ahead of Saturday night's function, so yarns and tales of past days could be eagerly recalled during the day. The function commenced with a drinks reception in a private room before dinner. Organiser Mike Hudson doubled-up as toastmaster and gave a short speech of welcome, after which grace was said and a quality meal enjoyed. Following our meal tributes were paid to 2 Staff members who are sadly no longer with us. Then Flight Lieutenant Education Officer Mike Shannon had sent us a message only weeks before he passed-on earlier this year. Mike had an affinity with the 304th as, like ourselves, Hereford was his first posting and we were the first entry he was assigned to. Legendary genial Northern Irish General Duties Sgt Jack Murray MBE was fondly remembered and a message from his son Jack Jnr. was read out. Jack's sister was the late Ruby Murray, who's best known 1955 No.1 hit "Softly Softly" was mentioned, prompting some to start singing it! 'A' Flight Instructor Peter Harris MBE was equally fondly recalled and his mightly impressive Service record read out – and what interesting listening it made! During speeches Sid Day proposed a vote of thanks to Organiser Mike Hudson, and the volume of appreciative applause said it all! Our dinner ended with Mike Hudson proposing a meaningful toast to "Absent Friends".
Cameras came out again as many photographs were taken, adding to those taken at the tables. We had our room booked until midnight and much time was spent as attenders caught up with one-and-other. Many hadn't seen fellow guests for 50 years, so – like all long term reunions – some needed prompting as to who people actually were? But, hey, nobody minded when asked, "Who are you?". Then were just glad to be asked…which is the spirit of such functions. When a "last orders" bell rang at midnight, another bar was at our disposal until 2am. Come the morning as attenders surfaced for late breakfasts, our reunion spirit was just as much in evidence around the tables, as final goodbyes were said before the 304th dispersed – most to homes and some on further trips around the UK.
Picture caption (left-to-right) : Jim Barnes, Andrew Suttie, Kevin Whitelam, Ian Seymour, Dave Ainsworth, Roger Davey, John Burnett, Mike Hudson, Jeff Blair, Brian Dunstone, Sid Day, Mick Allcock, Graham McCulloch, Tony Proctor, Neil Angus, Neil Williams, Tony Soper, Seon Smyth & John Satherley.
Below: Gallery Published 10th February 2020 – Images provided by Patrick Whitelam
Below: Gallery Published 5th January 2021 – Images Provided By Keith Tompkins
Obituary To Brian Dunstone – Steve Day (304th)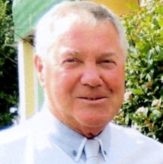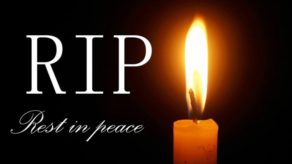 I've never been one lost for words, but I've really struggled to pen this, for one of my oldest friends Brian Dunstone, who passed away suddenly, at home in Lincoln in early July this year. We first met at RAF Hereford, in September 1965, when we enlisted in the 304th entry and undertook our training as Clk Sec's. He lived in the next bed to mine, in Room 6 Gibson Block. Brian, together with Jim Barnes and me, were the real force behind the original organization of our entry's 50th Anniversary of passing out of training in 2016. He came into his own that evening, accompanied by his wife Carol. Those present, and those who knew him, will never forget him. I'm going to use some lovely eloquent words written by another of our Entry, and a fellow roommate and Brian's best friend, (and Best Man at his Wedding) – Dave Ainsworth, who has summed Brian up, far better than I ever could.
Brian was 69 and would have been 70 next month. At RAF Hereford Brian was a key player in the Apprentice Wing cricket team which won the 1966 RAF Apprentice Schools' Competition. At this time, the Royal Air Force had 4 establishments offering apprenticeships, Cosford, Halton, and Hereford & Locking. Hereford and Locking were small compared to the other two – so it was difficult to win any sporting competitions. Cricket saw a Hereford victory. Brian was a true all-rounder, being excellent with both bat and ball and, for good measure, could also stand-in as wicketkeeper if needed. The Officer-in-Charge of Cricket was an Education Officer – Squadron Leader Benson. He rewarded his victorious team by taking them to a day's professional cricket at nearby Worcestershire's ground. . At times there seems little justice in the world – as Brian was probably the fittest person in our entry! He was voted "Sportsman of the Entry", for which he won an award, and his name was on the wall of RAF Hereford Station's gymnasium along with previous entry winners. Brian was talented at Rugby, making the scrumhalf position his own at whatever station he was at. His talent was rewarded with appearances at Command level and while at RAF Coltishall also turned out for a Norwich-based Club – Crusaders. As a footballer he also excelled and was usually Captain of any teams he played in
Like many living a "Service life", Brian and Carol, chose to settle in the area of his last posting – in his case at RAF Waddington on the Lincoln outskirts. While at RAF Coltishall I had a couple of enjoyable leave trips to Falmouth as Brian's guest, as well at being at his wedding. Brian in turn came for weekends at my place on the outskirts of London. In August 2016, the 304th Entry held a 50 years' reunion at Sutton Coldfield. After 50 years it was difficult to recognise some attendees – but all easily remembered Brian, who looked as young and enthusiastic as ever. It goes without saying; he was a most popular reunion attendee. Brian was an authority on popular music, and at RAF Hereford often bought a couple of pop magazines – the "New Musical Express" & "Melody Maker" – which he always passed around the billet room when he'd finished reading them. His knowledge of the charts was on display at our 2016 Reunion when a letter was read out from the son of our genial Irish Drill Sergeant, the late Jack Murray MBE. This tribute mentioned that Jack's sister, the late legend Ruby Murray, had enjoyed a No.1 success in 1955 with "Softly Softly". Brian started singing it – such was his knowledge of past chart hits!
Those of us who knew Brian were truly and deeply upset when told of his death. Indeed, most of us couldn't hold a conversation about what had happened until the rest of the day had ran its course and had a complete night's sleep – it took that long for this information to sink in and be accepted – for Brian was a lovely man who'll be much missed. The world was a much better place – with him in it! RIP Brian.
9th April 2021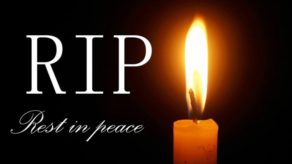 Obiturary To Keith Gardner – John Davies (303rd)
It is with much sadness that I heard about the recent death of Keith Gardner (304th) after a very long and challenging illness. I first met Keith at Cottesmore in September 1966 when he arrived from Hereford on his first posting and where we shared a four-man room – standard practice at the time! I left Cottesmore in May 1967 on posting to El Adem and had the good fortune to be dispatched to work in Station Headquarters at the RAF Garrison Tobruk, some 18 miles away and close to the beach. Keith followed some 4 months later, and I was absolutely delighted to learn that he was to be working alongside me. Keith was a great colleague and friend, together with being the best boozing mate anyone could ask for. He made many friends during his tour and remembered his time in Tobruk with much fondness. I met Keith some years later when he was stationed at Rheindahlen and I was up at HQ RAF Germany from Gutersloh on a course and we took the opportunity to enjoy a few beers and a bit of a reminisce in the Sergeants' Mess bar. Keith was indeed a wonderful character, with a cheeky smile and a mischievous sense of humour, and he will be sadly missed by all who knew him.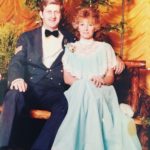 Comment By Steve Day Association Newsletter Editor:
I was also in the 304th Entry with Keith, and he occupied the bedspace 2 up from mine, during the whole of our Apprenticeship. I will be writing my own obituary in due course. Keith's funeral took place at Warrington Crematorium, Lancs, on 11th March 2021. Our sincere condolences go out to wife Lynne, and daughters Lisa, Natasha, and Becky, together with the rest of Keith's family and friends.
RIP Keith.
By Jeff Blair
Keith came from a small village called Haverigg, about 2 miles west of the small coastal town of Millom in Cumbria. I came from Barrow-in Furness which is about 20 miles south of Millom along the Cumbrian coastline (my mother and her parents had lived there before she eventually moved to Barrow). We therefore instantly had a common interest. Indeed, when we all enjoyed our home leave, Keith and I would travel together from Hereford, me getting off the train at Barrow with Keith moving onto Millom. I recall, too, that he had terrible dental issues at Hereford and spent a couple of weeks in hospital having his teeth removed to become the youngest person in our dorm with false teeth which I seem also to recall became the butt of many jokes. One instant memory I have is that during our Summer leave after passing out and before arriving at our first units he decided to come and visit me. Unknown to him, my dad had just concreted the drive which still bears his footprint where he mistakenly trod as he approached the house and before I could get to him to warn him!
I met Keith again at RAF El Adem in Libya. I was posted there in Jan 1968 and Keith met me on arrival – it was a great pleasant surprise He was living and working in a detached site with Paddy Davies in Tobruk (about 20 miles away – they looked after an Army company, RAF MT section and marine craft unit). I worked in El Adem PSF and Keith had been in Tobruk since Sep 68 and as these were 2-year tours we chatted on many occasions and indeed spent many hours in the local NAAFI bar as well as the sailing club. I think he eventually came home shortly after Col Gaddaffi's military takeover in Aug/Sep 68.
I met him next at Rheindahlen when I was posted there in Mar 79. I was PA to the Deputy Commander and Keith was already working in the CICC(G) (Commander in Chiefs Committee (Germany) which provided admin support on mutual matters affecting the CinC RAFG (3 star), Deputy Commander (2 star), CinC BAOR (4 star) and COS BAOR (2 star). Keith was a Cpl at the time and was working with Sgt Colin Lamb, who returned to the UK in mid '81. Keith was promoted to Sgt to replace him. So instead of having a couple of beers in German hostelries we were eventually able to go to the Mess together. My wife (Diane) and I also met Keith's wife Lynne and their children, indeed he lived just a couple of hundred yards away from us in MQs.
I never bumped into him again or even spoke to him. I always liked Keith, he had a great sense of humour and he is a great loss.
By David Ainsworlth
I recall Keith as one with a sense of humour which was seen on a near permanent basis. He could bring that humour to any given situation, sometimes when needed to brighten spirits during the hardest times of our Hereford apprenticeship period. Whenever he was the butt of jokes, he always took it in good spirit and was known as one who gave as good as he got. Without doubt he was a character – and those in the Royal Air Force gaining that description are ones who'll are not forgotten! I was sorry to learn that serious illness brought about an early end to his life.
Rest in peace Keith.
Dave Ainsworth (once known as 881)
Have You Any Photographs Or Other Memories Of the 304th Entry RAF Administrative Apprentices? If So You Can E-Mail Them To:
administrator@rafadappassn.org