Above: The Gallery Of Images Copied From Old Website
Above: Gallery Of Images Taken Under Training At Hereford – Provided By Steven Day
Gallery Of Images Taken At The Entry's 50th Anniversary Celebrations 2016
50th Anniversary Reunion August 2016 – A Report By Dave Ainsworth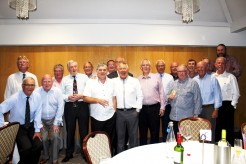 In August 1966, as England was still celebrating it's July World Cup Football victory, 72 Clerks from 'A' & 'F' Flights of No.2 Squadron joined Cooks and Suppliers at a passing-out parade on the square at RAF Hereford. Music came from both a full-time Regional Band and from an RAF Apprentice Wing Band. That RAF station, at the village of Credenhill 5 miles' north west of the cathedral city of Hereford, is now home to 22 Special Air Service (SAS) Regiment. Sadly Apprentice training ceased at RAF Hereford in 1973 with the 330th being its last entry.
On Saturday 13th August at upmarket Lea Marston Hotel and Spa on the outskirts of Sutton Coldfield, 32 attended a 50th Anniversary Reunion, of whom 19 were ex-Clerk Secretarial Apprentices, with 2 travelling from the States. A further 6 sent apologies : Ben Brittain, Peter Burrows, Nigel Knowles & Greg North plus 2 Staff members in Flight Commander David Evans and Trade Instructor – then Sergeant Peter Harris, who'd hoped to attend but for a late family illness. It was the first time an attempt had been made to stage such a Reunion for 304th Entry Clerks. This idea stemmed from Sid Day who'd started the proverbial ball rolling in 2015, before handing the baton to Mike Hudson – who from his abode in far-away Brechin took on the Organiser's task. Publicity was generated by ads placed with Forces Reunited, RAF News, RAF Administrative Apprentices Website, RAF Administrative Apprentices Newsletter, Airmail Magazine, Saga Magazine and mentions in Midlands' local newspapers & radio stations so covering the area chosen for our function. The area couldn't have been more central for allcomers, and was selected after an Organiser's on-site inspection.
The weekend reunion spirit was ignited early as some checked-in ahead of Saturday night's function, so yarns and tales of past days could be eagerly recalled during the day. The function commenced with a drinks reception in a private room before dinner. Organiser Mike Hudson doubled-up as toastmaster and gave a short speech of welcome, after which grace was said and a quality meal enjoyed. Following our meal tributes were paid to 2 Staff members who are sadly no longer with us. Then Flight Lieutenant Education Officer Mike Shannon had sent us a message only weeks before he passed-on earlier this year. Mike had an affinity with the 304th as, like ourselves, Hereford was his first posting and we were the first entry he was assigned to. Legendary genial Northern Irish General Duties Sgt Jack Murray MBE was fondly remembered and a message from his son Jack Jnr. was read out. Jack's sister was the late Ruby Murray, who's best known 1955 No.1 hit "Softly Softly" was mentioned, prompting some to start singing it! 'A' Flight Instructor Peter Harris MBE was equally fondly recalled and his mightly impressive Service record read out – and what interesting listening it made! During speeches Sid Day proposed a vote of thanks to Organiser Mike Hudson, and the volume of appreciative applause said it all! Our dinner ended with Mike Hudson proposing a meaningful toast to "Absent Friends".
Cameras came out again as many photographs were taken, adding to those taken at the tables. We had our room booked until midnight and much time was spent as attenders caught up with one-and-other. Many hadn't seen fellow guests for 50 years, so – like all long term reunions – some needed prompting as to who people actually were? But, hey, nobody minded when asked, "Who are you?". Then were just glad to be asked…which is the spirit of such functions. When a "last orders" bell rang at midnight, another bar was at our disposal until 2am. Come the morning as attenders surfaced for late breakfasts, our reunion spirit was just as much in evidence around the tables, as final goodbyes were said before the 304th dispersed – most to homes and some on further trips around the UK.
Picture caption (left-to-right) : Jim Barnes, Andrew Suttie, Kevin Whitelam, Ian Seymour, Dave Ainsworth, Roger Davey, John Burnett, Mike Hudson, Jeff Blair, Brian Dunstone, Sid Day, Mick Allcock, Graham McCulloch, Tony Proctor, Neil Angus, Neil Williams, Tony Soper, Seon Smyth & John Satherley.
Website Manager Note:
The link below was provided by Steve Day will take you to a collection of photographs that were taken during the 50th Anniversary of passing out of Apprentice Training event and supports the above published article submitted by Dave Ainsworth. The photographs were mostly taken by Patrick Whitelam, with contributions from various members of the entry (or their better halfs). I have created a visible gallery of this collection which is shown above.
https://goo.gl/photos/2zBvV67a37yqTksf7
304th Entry – RAF Hereford Under Training Images Provided By Steve Day
The link below will take you to a collection of photographs that were taken during the entry's time in Apprentice training from 9 Sep 65 to 12 Aug 66 and were shared at the 50th Anniversary event on 13 August 2016.
Website Manager Comment:
A number of the photos in this gallery are new and have not been published on our website before. I have created a visible gallery from the link below which is now at the top of your page, below the gallery created from the previous website. No apologies for any duplicates!
https://goo.gl/photos/iVVG6RMR5mG4JmNT9
New Images – Published 10th February 2020
Images provided by Patrick Whitelam
Have You Any Photographs Or Other Memories Of the 304th Entry RAF Administrative Apprentices? If So You Can E-Mail Them To:
administrator@rafadappassn.org