18th January 2022
Obituary To John Crips – Bob Danes 33rd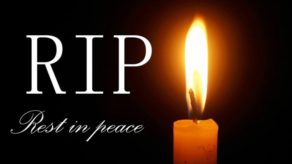 I am unsure of the exact year that I first met John, probably in mid 1980s. He was the WO Cashier at RAF Leuchars and I was on 22 Squadron at Leuchars. I do remember our first meeting though. I was in SHQ to pick up a claim and as I was pocketing my cash he told me that, "I was the oldest Sprog he had in his office that morning"!!! We became friends from that "introduction" on. He said he hadn't realised that Admin Apprentice numbers had risen so high – another Sprog dig!) We often ran into each other after that, either in the Mess, around the station or in St Andrews and we always found time to chew the fat and share a joke. John was unafailingly pleasant and chatty and it was always a pleasure to see him. Like all good WO's in TG17 he was very well informed about matters official and unofficial and we both shared "intelligence" as Warrant Officers are wont to do!! I was posted in due course and I dropped into his office to bid him goodbye whilst I was clearing the station thereafter our paths did not cross again. That tall, lean, smart bespectacled WO looking over the top of his glasses from behin his counter is still in my minds eye. A throughly nice man. One of these days I will recount a story pertaining to John and I at Leuchars! My deepest sympathy to his wife and family. RIP John.
29th July 2020
Obituary in memory of Martin Benn – Peter Bullock
Martin and about 60 other youths joined the RAF at Hereford in 1954 and his experiences as an apprentice were pretty much the same as others of that era. He was to serve at Hereford twice more in his career as an instructor, in 1957, 1962 – 63, and also at RAF Kirton in Lindsey in 1959 – 60.
His first posting after passing out from Credenhill in 1956 was to RAF West Malling, a Meteor Night Fighter base.
During his second posting to Hereford in 1957, he revived his pre-RAF enthusiasm for Scouting and joined a troop a few minutes' cycle ride from Credenhill as Assistant Scout Leader.
Following instructing duties at RAF Kirton in Lindsey, Martin was posted to RAF El Adem in 1960 where he dealt with local contractors in Tobruk and acquired a liking for their thick, black, sweet coffee or mint tea whilst brushing up his Arabic.
His interest in Scouting was renewed when he discovered a troop that had been established for the sons of Service families was about to lose its leader at tour-ex. Martin was gratefully appointed to take over. The troop was later joined by a Girl Guide company and together the groups made trips into the desert using various forms of transport, truck, coach or camel, visiting historic sites.
After a shortened tour back at Hereford in 1962 teaching Boy Entrants and then being declared 'Surplus to requirements', Martin was posted to 16 MU, RAF Stafford, However, being less than enamoured with the delights of continuous stocktaking, after four months he sought and achieved an exchange posting to RAF Mount Batten where he was able to satisfy his interest in boats and the sea, both at work and in sport. He took part in team sailing races against the RN, winning in 1963 and 1964. In 1964 he entered the Royal Plymouth Corinthian Yacht Club's annual races and won the McNamara Cup for the RN 14 ft class, this being the sporting highlight of his RAF service. In fact, Martin's interest in sailing vessels had started before he left school in the 1950s and continued for the rest of his life.
Having earlier become qualified in explosives handling, his next posting in 1965 took him to the RAF's Far East Explosives depot at 389 MU, RAF Seletar. He enjoyed both the work and the social side of the tour although the wildlife, insects, snakes and so on were a bit of a challenge. In October 1965 he was promoted to sergeant and within days he was posted to RAF Kuching, where Martin noted the difference in climate between Singapore and Sarawak, particularly the significant increase in both temperature and humidity.
His choice for his next posting in 1966 was for the Southern counties of England so, naturally, he was selected for the RAF Surface Movements Unit in Belfast. located within the Sydenham airfield then shared by Shorts and the Royal Naval Air Station Belfast (later RAF Sydenham and now George Best Belfast City Airport). The task was the distribution of freight for and from the RAF units in Northern Ireland.
In 1969 Martin applied for a Recruiting Office post and was a bit surprised that it would also be in Belfast! The Recruiting Office was housed in a modern office block shared with the Belfast Post Office, a large company of solicitors and the Daily Express office. The building was bombed twice in Martin's time there but life carried on in a 'normal for Belfast of the time' kind of way until it was time for a new posting, this time to RAF Masirah in 1973.
Another warm climate tour, this time off the coast of Muscat, the island serving as a staging post for aircraft flying between UK and the Far East. Martin's fishing enthusiasm was satisfied by arranging trips on a local dhow belonging to the brother of his foreman labourer.
Having volunteered for another recruiting duties tour, and asking for Belfast again, in 1974 he was assigned to the Blackburn office where he remained until he retired in 1977.
Martin's Interest in merchant vessels had started in the early 1950s when he was still at school. Retired from the RAF and returning to his former home in Devon, he spent his time visiting County Records Offices, The National Archives at Kew, The Irish National Archives in Dublin, The Guildhall Library in the City of London, The National Maritime Museum at Greenwich and local maritime museums the length and breadth of the British Isles to gather the information he needed to write a book. Throughout his RAF career and subsequent retirement he collected and compiled specific data on over 3,000 vessels. The result was a rather niche listing of 19th Century smacks, ketches, schooners, brigs etc. on the UK and Irish Registers on and after 1 January 1900 through to the mid 1960s when the last survivors were sold out of the trade. The result was the self-publication of his book Closing Down Sail, in 2011.
Martin's health took a significant downturn later in his retirement in the form of Rheumatoid Arthritis which ended his trips in search of ship data. He was eventually unable to leave his home at all and sadly his life ended in hospital in January 2020. He was laid to rest in a quiet and dignified Humanist ceremony at Charnock Richard Crematorium, Chorley which was attended by a standard bearer provided by RAFA Preston.
RIP, Martin, my old friend.
The following obituary to Derek Gould who passed away at his home in Australia on 25th December 2011 was taken from an Australian newspaper:
The passing of Derek Gould our President.
Derek Reginald George Gould 15.03.1938 – 25.12.2011. Derek died at home on Christmas Day 2011 surrounded by his family. He served in the Royal Air Force and was a luminary in the ACT cricket fraternity as an umpire, coach, selector and administrator. He was a wonderful husband, devoted father and loving, proud Grandad and will be greatly missed by his wife and best friend Ann, his son David, his daughter Sarah, his grandchildren Matthew, Rebecca, Lewis, Harris, Aishia and Judah, his sisters Sandra, his son-in-law Carl and his daughter-in-law Janet and by his many, many friends all over the world. A celebration of Derek's life will be held in the Chapel of Norwood Park Crematorium, Sandford Street Mitchell on FRIDAY 30 December 2011, commencing at 4.30pm.
You Have Reunion Photographs! To View Click Here.
Have You Any Photographs Or Other Memories Of the 23rd Entry RAF Administrative Apprentices? If So You Can E-Mail Them To: administrator@rafadappassn.org