Click Image To Enlarge
31st October 2021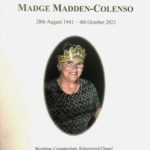 Obituary To Honorary Member Madge Madden-Colenso – Bryan Hoare (307th)

Madge passed away on the 4thOctober after suffering from Parkinson's for her last year or two . Madge was the partner of Mike Heritage of the 11th Entry who passed away a few years ago.
Madge and Mike lived together Nr Horsham, West Sussex at Madge's bungalow. When I first met Madge, the first thing she told me was about her entry in the Guinness Book of Records for gutting (or plucking) the most amount of Turkeys in a set time. Madge and Mike both played Golf for the Apprentice Association despite Madge's vertical challenge of 5ft. For those that did not know Madge she worked in almost every trade except being a candlestick maker, she was a character who liked a challenge. Building being one of her jobs led Madge to build her own Bungalow Nr Billinghurst, where she remained until her passing.
Mike and Madge hosted many summer BBQ's on behalf of the Association in Mike's role as Area Co-ordinator, these where very well attended and most enjoyable, especially when Mike operated the BBQ and served drinks.
Madge was very proud of her school days and attended all their reunions, her popularity was repaid by the attendance of many school friends at her funeral on 29th October at Worth Crematorium Findon, near Worthing, West Sussex which I attended on behalf of the Association.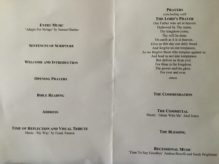 In all there must have been at least 70 family and friends. RIP Madge a great friend.
Have You Any Photographs Or Other Memories Of the 11th Entry RAF Administrative Apprentices? If So You Can E-Mail Them To:
administrator@rafadappassn.org