18th March, 2019
Veterans' Orthopaedic Service
My thanks to Steve Day for picking up the following from Facebook. It may be of interest to some to note the following: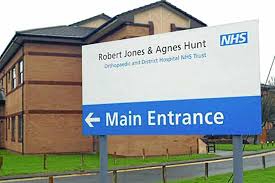 Veterans' Orthopaedic Service
We look forward to caring for you at The Robert Jones and Agnes Hunt Orthopaedic Hospital. To access our Veterans' Orthopaedic Service please read the following information carefully.
Referrals start at your local GP Practice (except in Northern Ireland). Where necessary, prior funding arrangements with your local Health Board or Commissioning Group will need to be in place..
Specific area requirements are as set out in the table below:
England
Under Patient Choice within England you can be referred to a provider of your choice, your GP will advise you of the process. Compliance with our local Value Bases Commissioning policy will apply in all cases. More information about this is available on our website.
Wales
Your GP must follow the Welsh Veteran Policy before you can be referred out of area and treatment may be offered locally.
Northern Ireland
Current Northern Ireland rules prohibit referral to England unless arranged by an Northern Irish consultant surgeon.
Scotland
Funding will need to be agreed by the relevant Health Board prior to referral.
Republic of Ireland
Overseas patient arrangements for access to free NHS treatment will depend on I individual circumstances. Contact your GP in the first instance.
EU Countries
Overseas patient arrangements for access to free NHS treatment will depend on individual circumstances. If you are in receipt of a UK pension and have registered a valid UK S1 form with the relevant authorities in your country of residence you are now entitled to return to England to receive free NHS hospital treatment.
Outside of the EU
People who live outside the EEA, including former UK residents, should make sure they are covered by personal health insurance, unless an exemption applies to them. Anyone who does not have insurance will be charged at 150% of the NHS national tariff for any care they receive.
Back to noticeboard
Noticeboard archive