23rd March, 2020
Troubled Times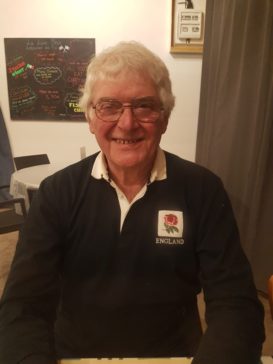 Good morning all from a nice sunny day here in France.
I need not remind anybody about the how the Corona Virus outbreak is impacting on all of us, except to hope you are all keeping safe and staying indoors as much as possible.
Regrettably it is almost certain that our Reunion in June is to be cancelled as is the planned committee meeting in April. More on this as I obtain more information from the Chairman.
Update 25th March 2020
I can advise that the Chairman has confirmed today that the Reunion has now been postponed until 2021 and the April Committee Meeting has been cancelled.
Here in France, we are in almost complete lockdown and one can only venture out with a completed document signed and dated on the day in question, stating where you are going. Only 5 categories of trip are permitted and we face a 135 Euro fine if stopped by the police and cannot produce the document.
I cannot speak for the rest of the country, but here in the rural SW most sensible folk are taking this thing very seriously indeed and obeying the law. There are however reports of in our local paper of groups of people here in the Charente and in other departments, still gathering in defiance of the rules and so putting others at risk of catching the virus. We are also reading of similar reports from the UK which must be disturbing for the majority of our members most of whom now come under the high risk category.
As to how you might pass your time during this crisis, let me again remind you of Ted Huntley's (24th) efforts to persuade more of you to sit and write articles for publication in both the Newsletter and on your website. I am sure that our members will enjoy reading your accounts of various exploits both as an apprentice and beyond. In fact any subject that takes fancy. I am open to receive your views on how you are coping with daily life right now which I will happily publish. You can reply to this notice below or if you so wish email me direct at
administrator@rafadappassn.org
Here is the text of the email sent by Ted and received by me this morning:
Good Morning,
Ted Huntley, 24th/25th entry emailing you to get some articles for the Newsletter from the feminine side. It would be wonderful to read how the wives/partners endured the ups and downs of RAF life.
What happened when your lesser half suddenly departed for a year to RAF Gan or other destinations for instance? You probably learnt how to fix a fuse, mow the lawn and deal with other masculine tasks and even enjoyed your previously unknown talents. Were there problems when he returned and you found
him almost unnecessary, in so many other ways, and a hindrance to your smoothly running household?
Were you in the WRAF and saw life in a different way and from a different angle and wondered what the hell was going on! You can talk for hours to other ex-service wives about your experiences; why not share them with us? Come on girls, deflate a few egos and give a one finger salute to pompous gasbags you have come across. Perhaps there are episodes kept under wraps for years that you can now tell the world, or the newsletter at any rate; how many times were you told to keep it quite about it? What was that it?
Hopefully I have opened the floodgates to stories of unfair treatment, misbehavior and worse.
Your stories do not necessarily have to be directly connected to the RAF. Our beloved web site manager wrote a very interesting article on his hip operation and how he was up and walking the same day. We have learnt about sports events. There have been extracts books such as Bomber Harris memoirs about
the huge amount of materials, such as 10 million rounds of ammunition, to launch a 1,000 bomber raid on Germany. I would be interested to find out about the book "A WAAF in Bomber Command".
Sit down now and email your tales of woe and success to newslettereditor@rafadappassn.org and administrator@rafadappassn.org
How many of you have said you could write a book about your experiences! I don't want a book (not yet) just an article.
Take care and good writing.
Cheers,
Ted Huntley
Back to noticeboard
Noticeboard archive