27th July, 2020
RAF Heritage Centre – Bircham Newton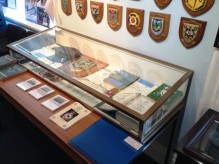 I have been given the following information regarding the temporary reopening of the RAF Heritage Museum at Bircham Newton:
The Construction Industries Training Board (CITB) has kindly allowed the Heritage Centre(HC) to re-open for a trial basis on Sunday 30 August 2020. It will be open from 10am until 4 pm and admission is free.
Strict social distancing will apply and visitor entry will be closely monitored to ensure that only a a limited number are permitted to enter at any one time. Toilet facilities, including disabled, will be available and these will be regularly sanitised throughout the day.
Visitors will be greeted outside by a member of staff before entering the HC.
CITB have asked that we confirm our arrangements comply with Government instructions. Subject to a report on how the open day went, CITB may allow further openings in September, October and a combined event in November when the the HC will open together with a Armistice Day service. Details of such events will be available on the HC web site
www.rafbnmp.org
You can see more information about the Heritage Centre by visiting our own dedicated website page
here
Back to noticeboard
Noticeboard archive