26th April, 2022
RAF Halton Apprentices Association Centenary Reunion – 6th August 2022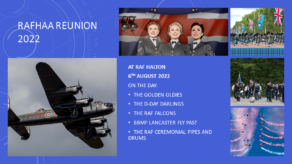 Our Chairman has notified that an invitation has been extended to Administrative Apprenticess Association members to attend the RAF Halton Apprentices Association Centenary Reunion at RAF Halton on 6th August 2022. A similar invitation has been extended to the RAF Locking Apprentices Association.
Full details of the event together with an application form and instructions for its completion can be downloaded by visiting the link below:
Please note that where it asks for Membership Number please use your individual Service number with the suffix AAA.
This event has been made an official event in the RAF calendar and as you will see from the image above, will certainly be a very interesting and entertaining day.
Back to noticeboard
Noticeboard archive