2nd October, 2020
Entry Shields – Update 1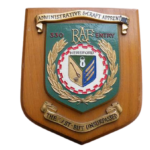 Further to my notice dated 24th September, my thanks to Dixie Dean for providing me with the following missing shield images:
35th, 37th, 38th, 39th, 40th, 42nd, 46th and 330th
These images have been added to the relevant entry scrapbook pages. Please refer to my earlier notice which contains a list of the shields I do have. If anyone has any of those still missing, I repeat, I would be most grateful for a photo.
Back to noticeboard
Noticeboard archive