11th September, 2022
Congratulations To The 23rd Entry!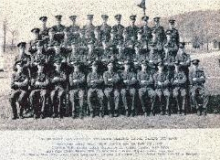 Our congratulations to all members of the 23rd Entry who have recently reached their 68th Anniversary! Below I have inserted the text of an email from David Marshall in which he reflects on the anniversary.
'Well we tried, but we are well spread out geographically, but all reasonably trim in figure. Nevertheless, e-mails told us that Bob Shepherd (Winchester area), Trevor Hicks (Portugal), Peter Bullock (Harrogate), John Reynolds (Basingstoke) and David Marshall (Wembley) all.managed to raise their glasses in memory of that day when we all.'took the 'late' Queen's shilling..
Tonight I sat at that Leefe Robinson VC's Steakhouse in Harrow Weald and ate an excellent meal, and quoffed a glass, or was it two, of their best Chardonay.'
Back to noticeboard
Noticeboard archive