14th October, 2019
A Letter From America
Following my earlier post A Letter From South Africa, I was very pleased and surprised to receive the following from the daughter of a 12th Entry Apprentice Clerk, the late Warrant Officer Richard G Lewis. I have included the two images taken from the Ruislip page that position Mr Lewis as explained by Mrs Dougherty.
'Dear Sir
I currently live in USA and my siblings and I recently were speaking of our Fathers time as a young boy in RAF. So just out of curiosity, I googled it all, and found your site! Imagine my delight when I saw a couple photos of our Father!( they are the men in white from Ruislip 1928) In oval photo, as you look at photo to left of Frank Williams, is our Father, who became W/O Richard G Lewis , second photo he is on the right of photo!
Our Father sadly died in 1953, whilst stationed at RAF Upavon, leaving his widow Doris, and four young children, our Mother never re married, and kept his memory alive for us . She would have been delighted that his memory is still here for us . I was so pleased and surprised to find these photos, thank you so much.
Sincerely, Susan Dougherty (née Lewis) Yorktown, Virginia USA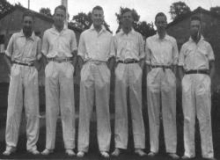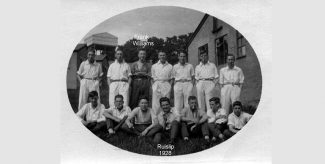 Back to noticeboard
Noticeboard archive