3rd January, 2023
A Significant Anniversary!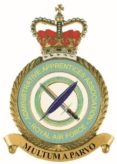 2023 marks the 65th Anniversary of the induction of the 33rd, 34th and 35th entries in January, May and September respectively. They all started at RAF Hereford and transferred to Bircham Newton in January 1959 from where they graduated. 2023 is indeed a landmark year for these entries so many congratulations!
For those of you ex-Administrative Apprentices reading this notice who are not yet members, we would encourage you to join us. For the modest yearly sum of £10.00 you can enjoy all the benefits of membership including access to our popular quarterly newsletter and the opportunity to catch up with old friends at our annual reunions in June each year.
An application form can be obtained here
Back to noticeboard
Noticeboard archive